Attukal Pongala is a religious festival celebrated every year for 10 days in the Indian state of Kerala  at the Attukal Bhagavathy Temple in Thiruvananthapuram. It is a very famous festival celebrated by Kerala women across the different parts of the world. The congregation of women made to the Guinness book of world records several times for making the largest religious gathering of women in the world. Attukal Bhagavathy temple sometimes also called as "Women's Sabarimala temple" as only women are allowed to performed all the rituals in the temple.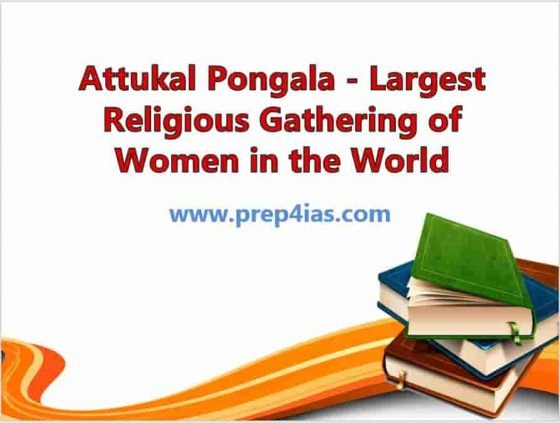 Attukal Pongala - Largest Religious Gathering of Women in the World
Also Read: Classification of Cultural Regions in India | UPSC IAS IPS IFS
In this festival, women prepare a divine food and offer it to the Attukal Amma (Goddess of the Temple).
The divine food is made of rice, jaggery, ghee and coconut cooked in Kerala Style.
Women's are usually dressed in white saris with golden border for the festival.
Women devotees made a world record on two occasions - one in the year 1997, when some 1.5 million women gathered for the religious festival and then another in the year 2009 when some 2.5 million women came together to offer Pongala to Goddess Bhagavathy.
The ceremony is initiated on the auspicious day of Pooram star which coincides with full moon or Purnima.
The festival Pongala preparation always start with a ritual called 'Aduppuvettu'.
On the ninth day, the temple attracts a huge gathering of women to celebrate the festival.
Women comes from every region of Kerala to be part of this festival.
One can always see a long queue waiting to perform the rituals of the festival.
Women lit their furnace to prepare Pongala only after the furnace in the main temple is lit.
The fire is shared from one pot to another.
It is widely believed that the rice payasam is the goddess favorite.
Women also make jaggery payasam and steamed green grams to offer to Lord Shiva, the goddess father.
Another delicacy called Therali Appam is also prepared.
All the earthen pots boil over at the same time filling skies with smokes and prayers chanting from the million furnaces mesmerizes the ambience.
The significance of this festival is believed to be the victory of good over the evil.
The festival ceremony ends in the evening with showering of flowers and sprinkling of holy waters by the temple priests to honor the goddess Sri Bhadrakali.
Attukal Bhagavathy temple also houses Goddess Kali, Goddess Parvathy, Lord Shiva, Goddess Sri Rajarajeswari and several others.