Young Upcoming Versatile Authors, or YUVA, is a programme initially introduced by the Ministry of Education on May 29, 2021, in accordance with the New Education Policy (NEP 2020). In line with the Prime Minister's goal of making India a Vishwa Guru, the YUVA programme provides young authors with a fantastic platform to become tomorrow's global leaders. The implementation of the plan would take place in stages.
The National Education Policy 2020 has placed a strong focus on developing young minds and establishing a learning eco-system that can prepare young readers and learners for leadership positions in the future.
Need for the Scheme
India is regarded as a "young country" since 66% of its entire population is under the age of 35 and may be used to create capacity and the country. In this context, a national programme for guiding future generations of authors has shown to be an essential first step in establishing the basis for the creative industry's future leaders.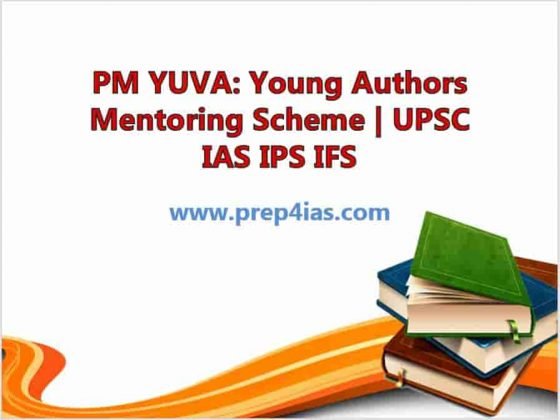 PM YUVA: Young Authors Mentoring Scheme | UPSC IAS IPS IFS
Also Read: Pradhan Mantri Swasthya Suraksha Yojana | UPSC IAS IPS IFS
Democracy is the theme of PM-YUVA 2.0. (Institutions, Events, People, and Constitutional Values). The programme will assist in creating a pool of authors who can explore the history, present, and future elements of Indian democracy through their writing.
Additionally, the programme would provide a space for aspirant young to express themselves and offer a thorough understanding of Indian democratic principles on national and international forums. The theme's focus is exclusively on democracy in the context of India to encourage study and documentation on the numerous facets of the Indian democratic system.
As the implementing agency, the National Book Trust of India (under the BP Division, Ministry of Education, GOI) will guarantee that the Scheme is carried out under clear-cut phases of mentoring.
Salient Features
The salient features of the Scheme are as follows:-
To choose seventy-five young authors, a contest was held.
The competition's topic was "National Movement of India," with focal sections on "Unsung Heroes," "Role of Unknown Places in Freedom Movement," etc.
To determine if the candidates would be suitable for the mentorship programme, they were required to submit a 5000-word novel.
All twenty-two of the scheduled languages, as well as English, was solicited for proposals.
A committee appointed by the National Book Trust made the decision (NBT).
The results were revealed on December 25, 2021.
Mentors have been tasked with assisting in developing the chosen proposals into complete volumes.
The mentorship programme would pay each author a combined scholarship of Rs. 50,000 monthly for six months.
NBT will pay a 10% royalty on the publication and sale of the books.
PM YUVA 2.0
The programme's second stage, known as Yuva 2.0, was introduced on October 2, 2022. This programme is for young individuals under 30 who believe they are talented and varied writers who can offer their opinions on a variety of topics, particularly those pertaining to liberation fighters, unsung Indian heroes, undiscovered and forgotten locations, etc., through their words, you have until January 15, 2023, to submit your entries. A total of 75 applicants will be chosen under this PM YUVA 2.0 initiative and receive training from the Indian National Book Trust in two parts.
A contest open to everyone in India was held on the MyGov Portal, and 75 authors were chosen. A Committee that NBT formed will make a choice. The Program debuted on October 2, 2022. The contest ran from October 2 to January 15, 2023. The competitors must submit a book proposal that is 10,000 words long. Consequently, divide according to the following: 2000–3000 word synopsis; 7000–8000 word chapter plans; two–three sample chapters; List of Literature and References.
The proposals' evaluation period will run from January 16 2023, until March 31 2023. In April 2023, the National Jury Meeting will take place. The authors who have been chosen will be revealed in May 2023. The mentorship would last from June 1, 2023, until November 30, 2023. The first batch of books will start to be published on February 1, 2024.
The National Book Trust of India will host a two-week writers' online programme for the chosen candidates. Two prominent authors/mentors from NBT's panel of distinguished authors and writers will instruct the young authors throughout this time. They will also get mentoring and guidance on how to use their literary abilities from prominent writers who serve as mentors for NBT's Advisory Panel and from other eminent authors who write in various languages.
The programme would heavily include the publishing eco-system, including how the material is developed, authors are mentored, editorial procedures are carried out, and literary agents identify creative talent. Through a contact at several worldwide events, such as Literary Festivals, Book Fairs, Virtual Book Fairs, Cultural Exchange Programs, etc., the writers will be able to deepen their understanding and improve their talents.
To ensure the interchange of literature and culture across the many Indian states and to further the cause of Ek Bharat Shreshth Bharat, the works produced under the programme may be translated into other Indian languages. They will also be provided with a forum to advertise their works and spread the reading and writing culture across the country.
Pros 
Candidates selected will get the opportunity to study with renowned Indian authors.
Hone their abilities and comprehension by participating in several international events
Receive a $50,000 scholarship good for six months.
An on-book royalty of 10% will be paid.
Cons
Only previously unpublished writers are eligible for the programme. This implies that you will only be qualified for the programme if you have already published something, even if it was simply a blog post or an article.
Submissions must not exceed 5,000 words. If you are used to writing more extensive works, this may be tricky.
Your work must be submitted in English.
Scholarship
A combined scholarship of Rs. 50,000 per month for six months (50,000 x 6 = Rs. 3 Lakh per author) would be awarded under the Mentorship Scheme for the books created under the Scheme at the conclusion of training and mentoring. As soon as their novels are successfully published at the conclusion of the mentoring programme, writers will get a 10% royalty. By bringing in a new generation of authors who write for domestic and foreign audiences, this programme would help India's publishing business, which is now ranked third in the world.
Conclusion
This programme will guarantee the emergence of a pool of writers in both Indian and English who are prepared to express themselves and represent India on any worldwide stage and contribute to the internationalization of Indian culture and literature. The young of India would be encouraged to view reading and knowledge as an essential component of their formative years by making them a desirable profession on par with other career alternatives.
Given the impact and effect of the current epidemic on juvenile mental health, it will also give young brains a psychological boost. The PM's vision of Global Citizen and Ek Bharat Shreshth Bharat will align with this initiative, establishing India as a Vishwa Guru.