Sarojini Naidu was an Indian national who was a prominent political activist and a celebrated poet. She made a major contribution towards the Indian independence movement against the British Raj and was an outspoken supporter of civil rights, women's emancipation, and anti-imperialism. She achieved a historic feat by becoming the first Indian woman to become president of the Indian National Congress and to be designated as the governor of a state. Naidu was born into a Bengali family in Hyderabad, and she was educated in the cities of Madras, London, and Cambridge.
After spending time in Britain and working for the cause of suffrage, she was inspired by the Congress party's fight for India to gain independence. She was a dedicated supporter of the national movement and she put her full faith and trust in Mahatma Gandhi's philosophy of swaraj (self rule). In 1925, she was bestowed the honor and privilege of being appointed Congress President and, after India achieved its independence in 1947, she was honored by being appointed as the Governor of the United Provinces.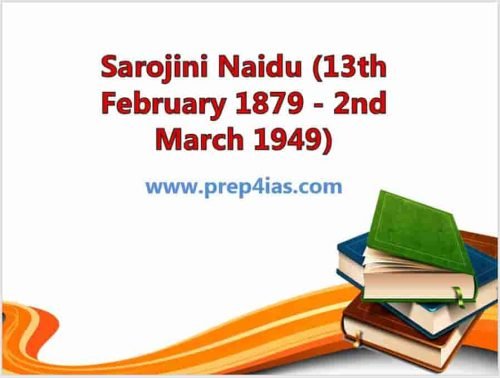 Sarojini Naidu (13th February 1879 - 2nd March 1949)
Also Read: Sri Ramakrishna Paramahansa (18th February 1836 - 16th August 1886)
Gandhi gave the title "Nightingale of India" to Naidu due to the extraordinary colour, imagery and lyrical quality of her poetic works. Her works encompass a broad range of topics, from poems for children to solemn topics such as patriotism and tragedy. The poem "In the Bazaars of Hyderabad" was published in 1912 and has remained one of her most beloved works to this day.
Personal life
On 13th February 1879, Sarojini Naidu was born in Hyderabad to her parents Aghorenath Chattopadhyay and Varada Sundari Devi. Her family home was located in Brahmangaon Bikrampur, in the Dhaka district of the Bengal province, which is now known as Bangladesh. Belonging to the Bengali Brahmin caste. She was the proud holder of a Doctor of Science degree from Edinburgh University.
Her mother wrote poetry in Bengali. Being the firstborn of the eight siblings, she was the eldest. Her brother Virendranath Chattopadhyay was a revolutionary and her other brother, Harindranath, was an extraordinary individual, possessing a unique set of skills as a poet, dramatist, and actor. People from Hyderabad had great respect and admiration for their family.
Education
At the age of twelve, she attained the highest rank in her matriculation examination, thus qualifying her to pursue university studies in 1891. During the years from 1895 to 1898, she was able to study in England due to a scholarship from the Nizam of Hyderabad, attending King's College in London and then Girton College in Cambridge. During her time in England, she was presented with the unique chance to meet individuals from the Aesthetic and Decadent movements who were working as artists. She spent a short period of time travelling in a few European nations.
Marriage
After an extended period of time, she eventually returned to Hyderabad in 1898. She got married to Govindaraju Naidu, a doctor who she had met while in England, in a move that was considered to be a ground-breaking and scandalous union. With the approval of both of their families, they were able to have a long and harmonious marriage. They were blessed with five beautiful children. In addition to the couple, their daughter Padmaja also became a part of the Quit India Movement and was then appointed to a number of governmental positions in India following independence.
Political career
Starting in 1904, Naidu was a much sought after speaker, advocating for Indian independence and women's rights, with a particular focus on the education of women. Her arguments were often structured in the way of Nyaya reasoning, which is a five-part rhetorical structure. In 1906, she spoke at the Indian National Congress and the Indian Social Conference, both of which were held in Calcutta. As a result of her social work for those affected by floods, she was awarded the Kaisar-i-Hind Medal in 1911; she later returned this medal in an act of protest against the Jallianwala Bagh massacre of April 1919.
She met Muthulakshmi Reddy in 1909, and in 1914 she met Mahatma Gandhi, whom she credited with inspiring a new commitment to political action. She had the distinction of being the second woman leader of the Indian National Congress, and the first Indian woman to preside over the INC conference.
In partnership with Reddy, she established the Women's Indian Association in 1917. Subsequently, Naidu joined forces with Annie Besant, the president of the Home Rule League and the Women's Indian Association, to promote the notion of universal suffrage before the Joint Select Committee in London, England. Additionally, she backed the Lucknow Pact, a joint Hindu-Muslim demand for British political reform, in the Madras Special Provincial Council. As a public speaker, Naidu was known for her ability to captivate her audience with her own personal style and the incorporation of her own poetry.
Contribution in Freedom struggle
Naidu maintained close connections with Gandhi, Gopal Krishna Gokhale, Rabindranath Tagore and Sarala Devi Chaudhurani. In the year 1917, she became a part of Gandhi's satyagraha, a movement of non-violent resistance against the British rule. Naidu made her way to London in 1919 as part of the All India Home Rule League, in her continued effort to gain India's independence from the British. The year after, she chose to join the non-cooperation movement in India.
Salt Satyagraha
The Indian National Congress chose Sarojini Naidu to be part of the East African Indian National Congress in 1924. In the year 1925, Sarojini Naidu was the first woman to ever be elected as the president of the Indian National Congress. Naidu was included among the group of people who created the All India Women's Conference in the year 1927. In the year of 1928, she embarked on a journey throughout the United States to advocate and promote the use of non-violent resistance. Naidu had the opportunity to preside over the 1929 session of the East African and Indian Congress in South Africa.
At the beginning of 1930, Gandhi was reluctant for women to participate in the Salt March, due to the arduous physical demands and the possibility of arrest. Naidu, along with other female activists such as Kamaladevi Chattopadhyay and Khurshed Naoroji, were successful in convincing him to change his mind, and they went on to join the march. The day Gandhi was taken into custody, 6 April 1930, he appointed Naidu to take over and guide the campaign going forward.
Considering the fact that some people were arrested, the Indian National Congress chose to not take part in the First Round Table Conference that took place in London. In 1931, Naidu and other influential members of the Congress Party took part in the Second Round Table Conference led by Lord Irwin, Viceroy of India, due to the agreement between Gandhi and Irwin. Naidu was sent to prison by the British authorities in 1942 for her part in the Quit India Movement. She was forced to remain in prison for 21 months.
Governor of United Provinces
Upon India's independence from the British rule in 1947, Naidu was selected to be the governor of the United Provinces (present-day Uttar Pradesh), making her the first woman to hold such a prestigious position in India. She remained in office until her death in March 1949 (aged 70).
Writings
Naidu started to write when she was twelve years old. Her play, Maher Muneer, which was written in the Persian language, managed to capture the attention of the Nizam of the Kingdom of Hyderabad. Naidu's poetry was written in English and her works often took the form of lyric poetry in the style of British Romanticism, with which she sometimes struggled to reconcile her Indian nationalist politics.
She was well-known for her dazzling and vivid use of sensory images in her writing, coupled with her exquisite descriptions of India. She had a great reputation as a poet and was often referred to as the "Indian Yeats". It was Naidu's poetic work which earned her the title of "Nightingale of India", or "Bharat Kokila" from Mahatma Gandhi, as a result of the remarkable colour, imagery and lyrical quality of her poetry.
In 1905, her first book of poems was published in London, the title of which was "The Golden Threshold". It was Edmund Gosse who proposed the idea of the publication, with Arthur Symons providing the introduction. A sketch of Naidu as a young adult, wearing a white dress with ruffles, was also included in the portrait and was drawn by John Butler Yeats.
In 1912, her second book of poems, The Bird of Time, was published and it was her most strongly nationalist work. The publication was released in both London and New York, including the popular poem entitled "In the Bazaars of Hyderabad". Her last collection of poems published while she was still alive was The Broken Wing, which was released in 1917.
The poem, "The Gift of India", which had previously been read by her at the Hyderabad Ladies' War Relief Association in 1915, includes a critique of the British empire's exploitation of Indian mothers and soldiers. A selection of poems that she had published throughout her career was printed and made available in New York in 1928.  Following her death, her daughter Padmaja Naidu collected together all of Naidu's poems, including any that were unpublished, and released them as The Feather of the Dawn in 1961.
The first collection of Sarojini Naidu's speeches were published in January 1918 under the title 'The Speeches and Writings of Sarojini Naidu', which quickly became a popular publication and as a result, a larger reprint was released in 1919 and then again in 1925.
Death
Before being immersed, the ashes of Sarojini Naidu were kept in a place of honor, the Golden Threshold in Hyderabad. At 3:30 p.m. (IST) on 2 March 1949, Naidu suffered a fatal cardiac arrest at the Government House in Lucknow. When she returned from New Delhi on the 15th of February, her doctors advised her to take some rest and all her official engagements were subsequently cancelled. On the night of 1 March, after she expressed her suffering from an intense headache, her health had deteriorated to a point where a bloodletting procedure needed to be done.
She fell to the ground and was unable to stand back up due to a series of intense coughing fits. At around 10:40 p.m. (IST), it was reported that Naidu requested that the nurse who was taking care of her sing a lullaby in order to help her fall asleep. After her passing, her last rites were performed at the Gomati River in her memory.
Conclusion
To put it briefly, Sarojini Naidu was a remarkable figure in Indian history and she has made an indelible mark on Indian literature, politics, and society through her life and work. She has become known as the "Nightingale of India" for her breathtakingly beautiful poetry, full of powerful images and emotions, and it continues to draw readers from all parts of the globe. Her unwavering commitment to political activism and her leadership within the Indian National Congress played a vital role in India's struggle for independence from the British Empire.
Her remarkable efforts and advocacy for women's rights and education have left a permanent mark in Indian society, making her a champion of women's rights and education. She remains a source of motivation and inspiration to many, and her impressive legacy serves as a reminder of the potency of art, activism, and leadership in transforming society. Sarojini Naidu's immense contributions to India's culture and society earned her a place as an iconic figure in Indian history, making her one of the most beloved figures of Indian culture.