In this article, we will look into important intelligence agencies of the world. There are many powerful Intelligence agencies currently operating across the world. Their main job is to protect their country's national Interest by gathering and analyzing intelligence related to its security and safety. We will discuss about some of those Intelligence Agencies in below section.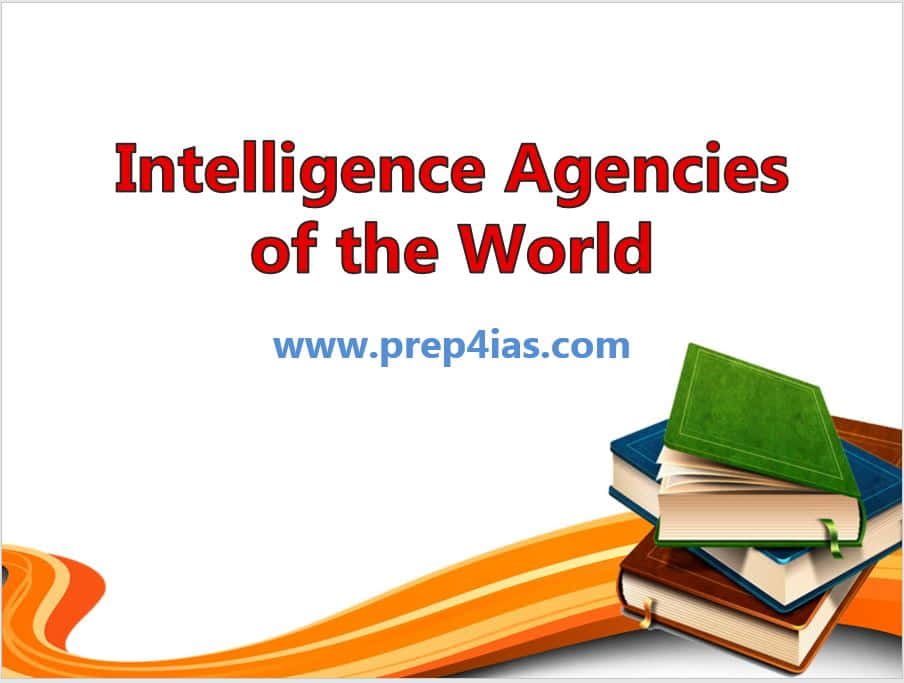 Important Intelligence Agencies of the World
Also Read: Peace Agreement: India, Pakistan Ceasefire at LoC (Line of Control)
1. CIA(Central Investigation Agency)
It is a federal Investigation Agency of the United States of America. The primary task of the agency is to gather, process and analyze the data related to national security from around the world. They reports to Director of National Intelligence. Their entire focus in on overseas Intelligence gathering as compared FBI(Federal Bureau of Investigation) who gathers and works on domestic intelligence. CIA hardly works on domestic intelligence.
2. SVR(Foreign Intelligence Service)
Foreign Intelligence Service is also known as the successor of KGB which was the main Intelligence Agency of Soviet Union. After the collapse of Soviet Union in 1991, SVR became the main Intelligence agency of Russia. SVR played a greater role in Russian foreign policy than the Foreign Ministry. It was reported that the SVR defined the Russian position on the transfer of nuclear technologies to Iran, NATO expansion, and modification of the Anti-Ballistic Missile Treaty.
3. NSA(National Security Agency)
NSA is a national level intelligence agency of the United States of America(USA). Just like CIA, it also comes under the authority of Director of National Intelligence. NSA is known to be specialize in the discipline of Signal Intelligence(SIGINT). The NSA is also tasked with the protection of U.S. communications networks and information systems. The NSA relies on a variety of measures to accomplish its mission, the majority of which are clandestine.
4. SIS(Secret Intelligence Service)
Secret Intelligence Service is also known as MI6. It is the main intelligence agency of the United Kingdom responsible for mainly covert overseas collection and analysis of Human Intelligence(HUMINT). Unlike its sister agencies like Security Service(MI5) and Government Communications Headquarters(GCHQ), it exclusively works on foreign Intelligence gathering.
5. Mossad
It is the main Israeli Intelligence Agencies along with Aman and Shin Bet formed on 13th December, 1949 responsible for Intelligence collections, cover operations and counter terrorism. The most successful mission of Mossad includes Operation Orchard which led to Israeli Air Strike on Syria's Nuclear Reactor, Operation Opera which led to Israeli Air Strike on Iraq's Nuclear Reactor, Operation Moses which led to the planned evacuation of some 8000 Ethiopian Jews to Israel, Operation Wrath of God which involves assassination of individuals alleged to have been directly or indirectly linked to 1972 Munich Massacre and many more.
6. RAW(Research and Analysis Wing)
RAW is the foreign intelligence agency of India founded in 1968. Its primary function is to gather foreign Intelligence, counter terrorism, counter proliferation and also involved in the Security of Indian Nuclear Programme. It has played a pivotal role in India's many covert operations. RAW played a crucial role in India-Bangladesh 1971 war and was instrumental in the formation of the Bangladeshi guerilla Organisation Mukti Bahini and responsible for supplying information, providing training and heavy ammunition to this organisation.
7. ISI(Inter-Services Intelligence)
It is a premiere Intelligence Agency of Pakistan formed on 1st January, 1948 operationally responsible for gathering, processing and analyzing information relevant for National Security from around the World. ISI reports to its Director-General and is primarily focused on providing intelligence for the Government of Pakistan. ISI played a central role in the US Backed Guerilla warfare to oust Soviet Army from Afghanistan in the 1980s.
8. CSIS(Canadian Security Intelligence Service)
CSIS is the primary Intelligence agency of Canada founded in 1984. Its primary task is to collect, analyze, report and disseminate intelligence related to threat of Canada's National Security. CSIS may also take measures to reduce threats to the security of Canada in accordance with well-defined legal requirements and Ministerial Direction. More on CSIS Official website.
9. ASIS(Australian Security Intelligence Service)
ASIS is the foreign intelligence agency of the Australian Government found in 1952. Its primary responsibility is to collect foreign intelligence including both counter-intelligence and liaising with the Intelligence agencies of the other countries.
10. NZSIS(New Zealand Security Intelligence Service)
It is New Zealand primary national intelligence agency founded in 1956. Its primary responsibility is to provide information and advise on matters including National Security and Foreign Intelligence. It established with the primary function of combating perceived increases in Soviet intelligence operations in Australia and New Zealand. Since then it expanded its monitoring capabilities into private property as well.