To get admission in B.Ed. Course, for session 2021-22 in various Teacher Training institutions in the Rajasthan State, a competitive test for selection of candidates i.e. Pre-Teacher Education Test (PTET) 2021 conducted by Government Dungar College, Bikaner (Rajasthan) in accordance with the following rules as approved by the Government of Rajasthan. It is the gateway to the institution's offered teaching programs, i.e. B.Ed. (2 years) and Pre B.A. B.Ed./ B.Sc. B.Ed. (4 years). Over 5 lakhs students appeared for the entrance exam to seek admission to 100+ prestigious college courses.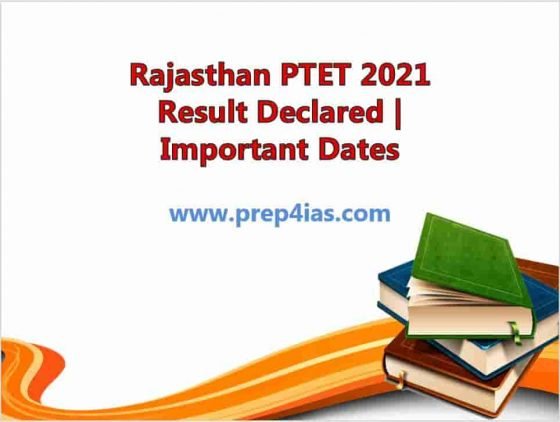 Rajasthan PTET 2021 Result Declared | Important Dates
Also Read: What is the Sovereign Gold Bond Scheme ?
Important Dates
Opening date of submission of online application – 03.02.2021
Last date of submission of online application – 10.03.2021
Amount of Application Fee – Rs.500 
Exam Date – Sunday, 16.05.2021
Official Website - https://ptetraj2021.com/pTet2021/hSPteTMaiPage.php
Age Limit
The candidates who wished to appear for the Rajasthan PTET 2021 exam must be above 21 years of age.
Results
The Result will be made available on the website on 28 September 2021. However, for information of the candidates a notification regarding declaration of the result was published in the leading newspapers of Rajasthan. Marksheets of the candidates were sent by post. The same was made available on website of the PTET 2021 or other site as informed through Newspapers and can be downloaded. However, as far as possible the information was given through S.M.S. on the mobile number provided by the candidate in his/her online form. Allotment of Teacher Education Institution will be made through ONLINE counseling.
The counseling programme was published in leading newspapers of Rajasthan and was also made available on PTET 2021 website www.ptetraj2021.com or www.ptetraj2021.org along with the instruction regarding their participation in ONLINE Counselling. Candidates were bound to follow the same. Candidates were advised to stay in touch with the leading newspapers of Rajasthan and website of the PTET 2021 on/after the declaration of their PTET 2021 result. The candidates who did not present in the ONLINE counseling or refuse to accept the allotted college through ONLINE counselling, lost their PTET 2021 merit position and their chance for admission to B.Ed. course were also not reconsidered.
Eligibility Criteria
The Government Dungar College had specified certain prerequisites that are essential for candidates to fulfil. Also, the applicants must make sure that while submitting the form, they cross-check all the details. The college holds the power to cancel the candidature of the applicant if found any discrepancy. Below mentioned were some entry requisites for the Rajasthan PTET:-
(FOR B.Ed.)
Applicants must have at least 50% marks in their bachelor's degree from any recognized university to apply for B.Ed.
Special reserved classes along with SC, ST, OBC, PwD, Widow or Divorcee women candidates must have a minimum of 45% marks in bachelor's or master's degree.
(For Pre B.A. B.Ed./B.Sc. B.Ed. Exam)
For general category, a minimum of 50% marks in the 10+2 from a recognized board/school.
At least 45% marks for the reserved categories like SC, ST, OBC, special backward classes.
More Explanation
Candidates secured at least 50% marks in aggregate in the Bachelor's / Master's Degree examination of any State University or any other University recognized as equivalent to and fulfilling the other requirements for admission to B.Ed. Course prescribed hereinafter were eligible to apply for admission to B.Ed. Course through PTET 2021. However, Scheduled Castes, Scheduled Tribes, Other Backward Classes, MBC as well as physically challenged and Widow or Divorcee women candidates of Rajasthan having at least 45% marks in aggregate in the Bachelor's/Master's degree level examination were eligible to apply for admission. No relaxation in the minimum percentage (not even one mark) as required above was given to any candidate.
Candidates of other State (not bonafide residents of Rajasthan State) was treated in General Category only. Out of the total number of seats faculty-wise, not exceeding 5% seats were filled in by the candidates from other states on the basis of overall merit, irrespective of the state to which the candidate belongs provided that merit of a candidate from outside Rajasthan is not less than the merit of the last candidate belonging to Rajasthan in a general category. The remaining seats were available to the candidates who are bonafide residents of Rajasthan State.
Exam Pattern
The profile and pattern of online examination subject wise was as follows. The PTET 2021 Examination consisted of one question paper contained following four sections:-
Mental Ability
Teaching attitude & Aptitude Test
General Awareness and
Language Proficiency (Hindi or English)
Online Examination
All questions in Question Paper was objective type multiple choice questions with at least four alternative answers.
The Paper was set both in English and Hindi except in Language proficiency Section. In case of discrepancy in options of answers or in question paper the English version was treated as final.
The duration of the paper was of 3 hours.
Each question carried 3 marks and the maximum marks in the paper was 600.
Full 3 marks was awarded for each correct answer. In Attitude & Aptitude Section, however, the answers was on a scale of 3 to 0 marks. This means that answer to each question had carried a weightage of 3,2,1 and 0.
Section A: Mental ability Section consisted of 50 objective type multiple choice questions to test following abilities:-
Reasoning
Imagination
Judgement & Decision Making
Creative Thinking
Generalization
Drawing inferences etc.
Section B: Teaching Attitude and Aptitude Test Section consisted 50 questions mainly in the following areas:-
Social Maturity
Leadership
Professional Commitment
interpersonal Relations
Communication Awareness etc. (This will be the test of attitudes and awareness in which answers to question will be scored on a scale of 3, 2, 1 and 0.)
Section C: General awareness Section consisted 50 objective type multiple choice questions mainly in the following areas:-
Current affairs (National & International)
Indian History & Culture
India and its natural resources
Great Indian personalities (Past and Present)
Environmental awareness
Knowledge about Rajasthan etc.
Section D: Language Proficiency (English or Hindi) Section consisted 50 Objective type multiple choice questions regarding proficiency in Hindi or English Language mainly related to the following aspects:-
Vocabulary
Functional Grammar
Sentence structures
Comprehension etc.
Reservation
Out of the total number of seats available in each Faculty (Arts, Science and Commerce), reservation for Rajasthan domicile only was made as given hereunder as per state govt. rules:-
For candidates belonging to Scheduled Castes -16%
For candidates belonging to Scheduled Tribes -12%
For candidates belonging to Other Backward Classes - 21%
For candidates belonging to MBC. (As per Govt. order)
For women (out of which 8% seats are reserved for widow and 2% for divorced women) - 20%
For physically challenged (blind, deaf and/ or dumb and orthopaedic) with at least 40% disability, on production of a medical certificate on Form No.4, had to be submitted duly signed by medical Board or by Reader in the speciality concerned where there is medical college or from the junior Specialist in the speciality concerned or the C.M.H.Os. at place where there no Medical College exist- 5%
For in-service or an Ex-serviceman defence personnel or for his/her ward (only Air force, Army and Navy personnel) - 5%
Economically Weaker Section (EWS) - 10%