In this article, we will see all the important points about Somnath Temple in Gujarat. Somnath Temple represents the rich art and cultural heritage of India and always remains a Centre point of foreign invasion and attacks. This also makes it as one of the favourite topic for many competitive exams.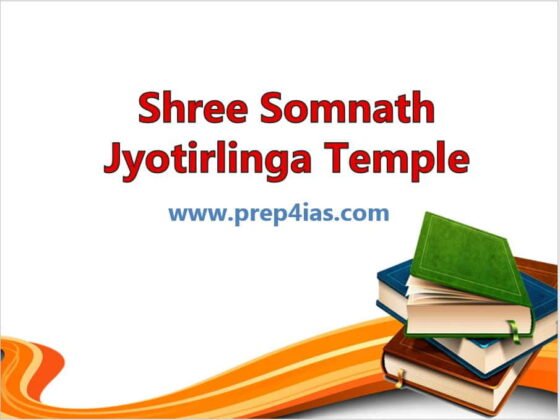 Shree Somnath Jyotirlinga Temple in Gujarat
Somnath temple is located in the western coast of Gujarat Near the Arabian sea.
Somnath means "Lord of the Soma", Anepithet of Shiva.
It is one of the 12 Jyothirlings of India.
Triveni sangam– Confluence of three rivers: Kapila, Hiran and the Mythical Saraswati.
Somnath temple is said to have been built by the "Yadava Kings" of Vallabhi around 649 CE.
This temple was destroyed in 725 CE by Al- Junayd, the arab governor of Sindh.
The third temple was constructed by the Gurjara Pratihara King Nagachata 2 in 815 CE.
The fourth temple was built by the Chaulukya (Solanki) King Mularaja at the site sometimes before 997 CE.
Mahmud of Gajnavi had destroyed the temple in 1024 CE during his raid of Gujarat.
In 1024 A.D. Mahmud Gajnavi set siege to the temple using an army of 5000 men stole all the precious ornaments and, gold from the temple as well as brought about death to about 25,000 innocent people.
Following the attack, after nearly 70 years in 1093 this temple was restored by Jay Singh.
In 1168 Vijeshwar Kumar along with the king of Saurashtra brought glory to the temple by enhancing its beauty.
Mahmud's greed for gold was insatiable, so his raids were directed to major temple towns such as Mathura, Thanesar, Kanauj and finally Somanatha. The concentration of wealth at Somanatha was renowned, so it was inevitable that Mahmud would have attacked it". (Excerpt From Romila Thapar's Book)
According to an inscription in 1169, the temple was rebuilt by the Kumarapala in Excellent stone and studded with jewels.
In 1298, Gujarat was attacked again by the army chief of Mahmud Gajnavi Nusrat Khan where in the temple was destroyed yet again all its precious possessions stolen and leaving the idol of the deity in a bad condition.
The temple was rebuilt by Mahipala I, the Chudasama King of Saurashtra in 1308.
This chain of restoration and destruction went on many times in the coming years, in 1395 and 1413.
The reign of terror did not stop when Aurangzeb planned further attacks on the temple during 1665 and 1706.
In 1783, this temple was built again for the Princess of Indore, Ahilya Bai.
Following this the independence of India was achieved in 1947, and Sardar Vallabh Bhai Patel restarted the building of this temple in 1950.
In 1951, the President of India, Rajendra Prasad established the idol of Shiva in this temple.
From 1961, the temple has been in full function and attracts a large crowd every day. More on PIB.