In this article, we will discuss about the recent Citibank announcement of closing down its Consumer banking operations in India. Citi announced its decision while declaring the first quarter earnings for 2021. The bank data shows it was doing relatively well as compared to its competitors. The bank has recorded a return on capital employed of 19.41 per cent, net interest margins of 4.86 per cent and return on assets at 2.43 per cent.
About Citibank
Citibank is the fourth largest bank in USA. It was founded in the year 1812 as the City Bank of New York and later became the First National Citi Bank of New York. At present, Bank has 2,649 branches in more than 19 countries including 723 branches in United States. Citi started its retail operations in India in 1985 and was among the pioneers of Credit Cards.
What's the Reason of Exit
According to a report, the profit of the Consumer Banking Business have been under tremendous stress due to lot of growing competition in the same scale of business. It seems bank need a lot of capital and Investment to scale its operations to the same level. Jane Fraser, CEO of the Company wanted to focus more on lucrative part of Citigroup's Businesses.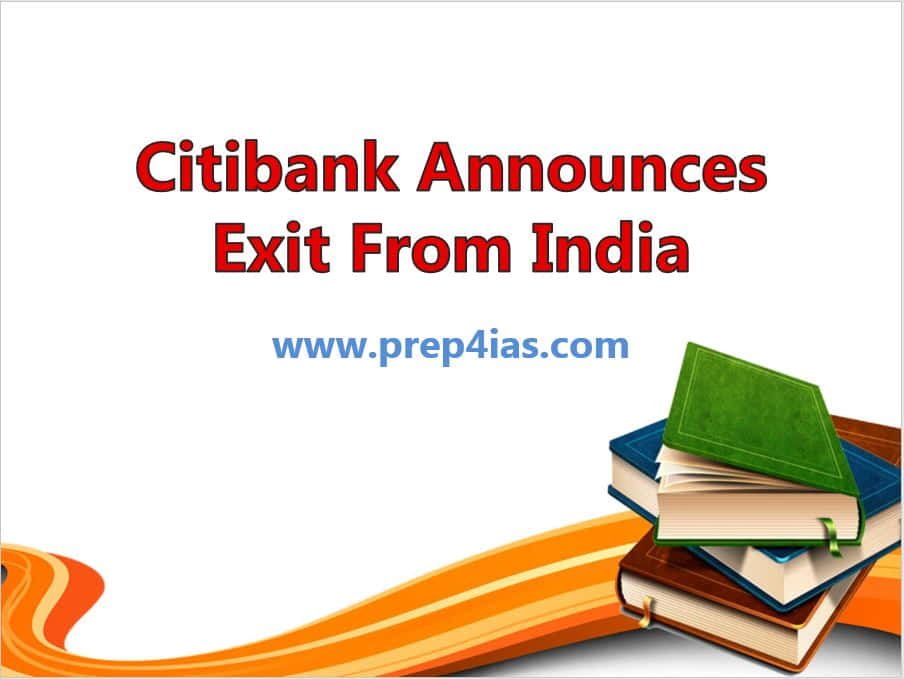 Citibank Announces Exit From India
Also Read: India's Rupee becomes Asia's Worst Performing Currency | UPSC IAS IPS IFS
Citibank Global Chief Executive Jane Fraser said that it will exit its Consumer Banking operations from Indian Markets along with 12 other countries markets so that they can shift their focus on wealth generating markets like UAE, London, Singapore and Hong Kong.
The other 12 countries include Australia, Bahrain, China, Indonesia, Korea, Malaysia, the Philippines, Poland, Russia, Taiwan, Thailand and Vietnam.
What's Current Citibank Market Share
Citibank India has around 29 lakh retails customers, 12 lakh Bank Accounts and about 22 lakh credit card accounts as of March 2020. The Bank holds around 6% share in Credit Card Business and 5.9% market share in Digital Payments. It has a balance sheet size of Rs2.18 lakh crore and is followed by HSBC with a balance sheet size of Rs2.11 lakh crore and Standard Chartered with Rs1.84 lakh crore in 2019-20. More on New Indian Express article.
How Citi Contributed to Indian Banking Sector
Citi played a key role in Institution Building. The bank is known for its wealth management services. It also played a huge role in building and developing digital banking infrastructure, with a constant focus on Innovation and technology. It is also known for its Credit Card business although it is not scaled as much as SBI Cards or HDFC Bank.
In fact, Citi was the first bank in India to capture the Salary business from Corporate Sector. It came up with ground breaking Idea of salary account known as Suvidha, which later was replicated by every other Corporate Sector Indian Banks.
Impact on Employee and Customer Operations
Citibank CEO explained that this decision will have no immediate impact on its employees and Customers operations as they have no plan to shut down its Consumer business. Their plan is to sell off the business to an Interested buyer. As per the statement, Bank will continue to perform all their operations with utmost dedication as they were doing till now. It means that Citibank will continue to service its account holders for now, later on they will taken over by acquirer once the sale concludes.
What After Citibank Exit
There are multiple contenders in the race to take over the Citi Business. Most likely Citi will sell individual business segments to different players. Some of the prominent player including SBI Cards has been seen as the primary contender of Card Business. Another major bank which can also show its interest is the HDFC Bank but currently it is handicapped by the RBI by putting restrictions on acquiring fresh customers.