In this session, we will see the important points from the Union Budget of India 2020-21 which is relevant from exam point of view. In this Year, Finance Minister announced a series of tax reforms along with significant expenditure on Health, Road Infrastructure, Railways and Power. FM also outlays the plan to disinvest the loss making PSUs to generate an income of around 1.75 Lakh Crore. This year Budget of India was also special in a sense that it came just after the Covid Lockdown which caused major impact in the Economy.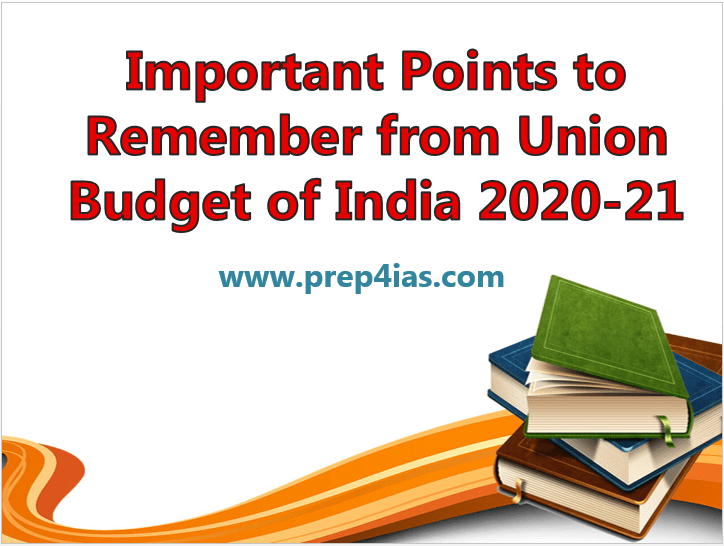 Important Points from Union Budget of India 2020-21
Also Read: 30 Important Questions on Law Commission Reports(For UPSC/PSC Exams)
Overall Capital Expenditure for FY 2021-22 is Rs5.54 Lakh Crore.
Proposal to setup a new Centrally Sponsored Scheme, PM Aatmanirbhar Swasth Bharat Yojana, with an outlay of about Rs64,180 crore over six years.
Budget also outlays for Health and wellbeing estimates of around Rs 2,23,846 crore for FY 2021-22, which is a rise by 137% Y-o-Y basis.
In the Insurance sector, FDI Limits increased from 49% to 74%.
Plans to divest two PSUs as well as one insurance company.
Proposal to exempt the senior citizens above 75 Years of age from filing income tax returns if Pension Income and Interest Income is the only source of Income.
Provision to reduce the reopening time for IT Proceedings to 3 years from earlier time limit of 6 years except in cases of serious tax evasion.
Proposal to constitute Dispute Resolution Committee for those assessed with a taxable income of up to Rs50 Lakh (for small and medium taxpayers) and any disputed income of Rs10 Lakh. They can reach out to this committee under Section 245MA to prevent new issue and settle it down at the initial stage.
Provision for faceless proceedings before the Income Tax Appellate Tribunal (ITAT) in a jurisdiction less manner to reduce the cost of compliance for taxpayers and increase transparency in the disposal of appeals.
Proposal to notify rules for removing hardship for double taxation.
Extension of tax holiday for startups by one more year up to 31st March 2022.
Union Budget of India also proposes Advance tax on divided Income. It will only be applicable after dividend declaration.
Reduction in basic customs duty on Gold and Silver.
Increased duty on Solar Lanterns from 5% to 15%
Increased duty on Solar Inverters from 5% to 20%
Reduction in duty on copper scrap from 5% to 2.5%
Increase in Custom Duty on Cotton, Silks, Alcohol etc.
Imposition of Agriculture Infrastructure and Development Cess(AIDC) on petrol and diesel at Rs 2.5 and Rs 4 per litre respectively.
Record sum of Rs 1,10,055 crore to be provided for Indian Railways, out of which Rs 1,07,100 crore has been reserved for capital expenditure.
New metro rail technologies to be deployed to provide metro rail systems in Tier 2 cities and peripheral areas of Tier 1 cities at much lesser cost.
Increase in allocation to Rural Infrastructure Development from Rs 30,000 crore to Rs 40,000 crore in FY21.
Allocation of Rs 4.78 Lakh Crore for the Defence Budget for Year 2021-22.
A sum of Rs 24,435 crore allocated to the Ministry of Women and Child Development.
Government also launched Mission Poshan 2.0 and allocated Rs 20,105 crore together with the Saksham Anganwadi Scheme.
Jammu and Kashmir has been granted Rs 30,757 crore and Ladakh has been granted Rs 5,958 crore which is roughly same as compared to the previous year.
FM also announced the voluntary vehicle scrapping policy in this year Budget where vehicles older than 15 years will have to undergo fitness tests in automated vehicle fitness training Centres.
Union Finance Minister also announced the creation of an asset reconstruction company/asset management company popularly Known as "Bad Bank" to clean up the books of Banks.
Proposal to create 7 textile parks and set up a seaweed park in Tamil Nadu as part of the government effort to generate more and more jobs. More on Official Budget Page.