Jharkhand Mukti Morcha(JMM) became the first political party to declare its electoral Bond Donor. This is the first time that any political party shown its desire to name its electoral bond donor. In a new report, the ADR said the most common and popular source of income for national and regional political parties in 2019-20 were donations through electoral bonds.
What is Electoral Bond
Electoral Bond is a financial instrument introduced in 2018 for making donations to political parties in multiples of Rs 1000, Rs 10,000, Rs 1 lakh, Rs 10 lakh and Rs 1 crore without any maximum limit.
Why Electoral Bond was Introduced
Th Electoral Bond was needed to put a check on traditional under the table donations. The conventional practice of funding the political system was to take donations in cash and undertake these expenditures in cash. The sources are anonymous of Pseudonymous. It was therefore very important to bring any alternative system to clean up the political funding mechanism.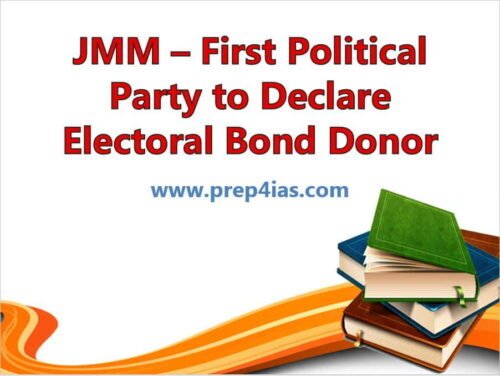 Jharkhand Mukti Morcha(JMM) – First Political Party to Declare Electoral Bond Donor
According to the contribution report by the Jharkhand ruling party, a sum of Rs 1 crore has been donated by Aluminium and Copper Industry, Hindalco. It is important to note that Jharkhand mukti morcha has declared the name of the donor in its contribution report for FY 2019-20, however this income through electoral bonds has not been declared by the party in its audit report for FY 2019-20.
About Jharkhand Mukti Morcha(JMM)
Jharkhand Mukhti Morcha(JMM) is a state political party in the Indian state of Jharkhand which was founded by Binod Bihari Mahato in 1972. It has one seat in 17th Lok Sabha. Shibu Soren is the current president of JMM and also the current Chief Minister of Jharkhand. Its election symbol for Jharkhand is Bow and Arrow. JMM is also an influential political party in the state of Odisha and parts of neighboring of states.
How Electoral Bonds Can be Purchased
The bonds are available for purchase by any person(who is a citizen of India or incorporated or established in India) for a period of ten days each in the months of January, April, July and October as may be specified by the Central Government. Two important point to note here that – A person being an individual can buy bonds, either singly or jointly with other individuals and Donor's name will not be mentioned on the bond. State Bank of India is authorised to issue and encash these bonds, which are valid for fifteen days from the date of issuance.
Conditions for Electoral Bonds
Only parties registered under the Representation of the People Act 1951 could receive donations through electoral bonds, and they also should not have secured less than 1% of the votes polled in the previous elections. To take the menace of Black money, only white money is involved in the bonds as the amounts are paid only through cheque or demand draft.
Donations to Other Political Parties
According to a report, more than 50% of the total income, i.e Rs 312.37 crore of 19 political parties, analysed for the 2019-20 fiscal, was received from donations through electoral bonds. The identity of the donors are not disclosed to the public.
Electoral bonds worth Rs 3,429.56 crore were redeemed by parties in 2019-20, indicating that the remaining Rs 3,117.19 crore, or approximately 91% worth of electoral bonds, were encashed by parties whose audit reports are yet to be available on the Election Commission website. The total income declared by two national and 17 regional parties for 2019-20 was Rs 619.28 crore.
As per the report, the All India Trinamool Congress(AITC) reported having the highest income of Rs 143.676 crore, which forms 23.20% of the total income of all the parties analysed, followed by the Telugu Desam Party(TDP) 14.78% and the Biju Janata Dal(BJD) 14.59%. More on HT.