The National Beekeeping & Honey Mission (NBHM) was approved under the Central Sector Scheme of AtmaNirbhar Bharat in 2020 for two years. It was launched to promote and develop scientific beekeeping in mission mode to achieve the goal of "Sweet Revolution" in the country by giving thrust on capacity building & training, specific focus on women, input support for promotion & production, setting up of Integrated Beekeeping Development Centres (IBDCs), other Infrastructures, digitization / online registration, etc., processing, value addition, market support, etc. & R&D.
History
The initiative aims at the general progress and promotion of scientific beekeeping in India to achieve the objectives of the Sweet Revolution. It is a central government initiative entirely sponsored by the central government. The KVIC Honey Mission, the Mission for Integrated Development of Horticulture (MIDH), and programmes from the rural development, MSME, AYUSH, commerce and industry, tribal affairs, etc., will all work together with the programme.
Need for the Scheme
Beekeeping has several benefits for farmers, the economy, and the ecology. The Mission has the following benefits: Pollination aid increases the quality and quantity of produce, such as fruits, vegetables, oilseeds, lentils, etc. It supports the sustainable growth of the environment and agriculture. Furthermore, it promotes the preservation of biodiversity.
It is an essential component of agriculture and is a low-cost technology. It also produces jobs and serves as a source of support. It contributes to improving living conditions and boosting farmers' income. Bees are essential to the ecosystem because they provide pollination for developing other plants, animals, and, eventually, life on Earth itself.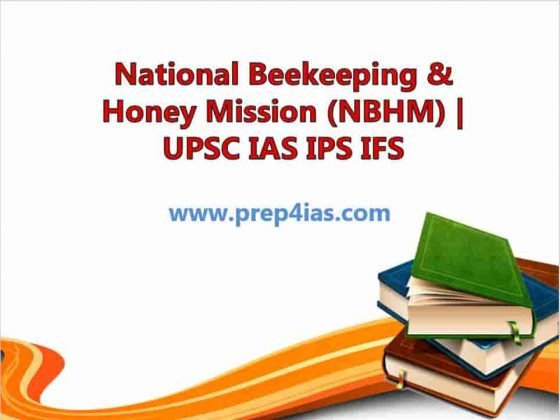 National Beekeeping & Honey Mission (NBHM) | UPSC IAS IPS IFS
Also Read: Pradhan Mantri Awas Yojana (PMAY) | UPSC IAS IPS IFS
The government authorized the funding of Rs. 500 crores for the National Beekeeping & Honey Mission (NBHM) for three years (2020-21 to 2022-23), considering the significance of beekeeping as a component of the country's Integrated Farming System. The AtmaNirbhar Bharat programme included the Mission in its announcement. To achieve the objective of the "Sweet Revolution," which is being executed by the National Bee Board, NBHM seeks to promote and improve scientific beekeeping nationally (NBB).
Objectives
The objectives of NBHM are:-
Promote the overall development of the beekeeping sector to provide income and jobs for households on and off farms.
Increase agriculture and horticultural output.
Create infrastructure facilities, such as Integrated Beekeeping Development Centers (IBDCs)/CoEs, laboratories for diagnosing bee diseases, labs for testing honey, centres for custom hiring, nucleus stock, centres for apitherapy, bee breeders, etc.
Use beekeeping to empower women.
Create a blockchain/traceability system to track the origin of the honey and other beehive-related goods.
Use IT technologies for beekeeping, such as online registration.
Establish honey corridors as appropriate.
Support beekeeping/honey production startups and Agri entrepreneurs.
Encourage traders/exporters and beekeepers to get into trade relationships.
Promote the advancement of cutting-edge technology and skill sets in the beekeeping sector for producing honey and other high-value beehive products.
Encourage beekeeping by providing an institutional structure for a team effort, such as SHGs, FPOs, etc.
Increasing the economic, social, and ecological benefits of beekeeping through diversification by producing more honey of a higher quality and quantity as well as other high-value beehive products for both domestic and international markets, such as beeswax, bee pollen, royal jelly, propolis, comb honey, and bee venom.
Implementation
For the purpose of implementation, the Mission has been divided into Sub-Mission I, II, and IIII.
Sub-Mission I: This submission focuses on using scientific beekeeping to increase crop output and productivity by pollinating plants. The goal of it is to increase public awareness of scientific beekeeping.
Sub-Mission II: The primary focus of this sub-mission is on the management of beekeeping and beehive products after harvest, including collection, processing, storage, marketing, value addition, etc.
Sub-Mission III: The development of research and technology for diverse states and regions, as well as for varied agro-climatic and socio-economic circumstances, is the focus of this sub-mission.
The mission structure is based on three levels: National, State and District.
A dedicated PMU/Cell is established to oversee the overall execution & implementation, monitoring, etc., of the beekeeping programme at the National level. The following committees will strive to ensure the successful and efficient implementation of the NBHM at the national level:
The General Council (GC)/National Level Steering Committee oversees the Mission's overall direction and performance while monitoring and reviewing it.
A Project Appraisal & Monitoring Committee (PA&MC) will be established for project approval, successful execution, monitoring, and other NBHM-related activities.
An Executive Committee (EC) to review and approve initiatives and proposals submitted to the NBB.
A Project Appraisal Committee (PAC) is formed to review, rating, and make recommendations about projects and proposals submitted to NBB under NBHM.
A State Level Steering Committee (SLSC) may exist at the state level, with the Secretary or Principal Secretary serving as its chairman.
For the approval, implementation, monitoring, etc., of the recommendations of state-level organizations/agencies under NBHM, a District Level Committee headed by the DM, DC, or CDO and composed of representatives from all relevant Departments, organizations, and agencies would be established.
The Union Minister for Agriculture and Farmers' Welfare has launched "Madhu Kranti Portal & Honey Corners", an initiative of the National Bee Board under the Mission.
This site is built for online registration to create source traceability for honey and other beehive products on a digital platform. The platform will assist in determining the kind and source of honey adulteration. The gateway will aid in raising farmers' incomes, promoting exports, and creating more jobs. It will include a database of all the parties engaged in the production of honey, it's marketing, and the keeping and selling of hives and will expand the honey industry's access to global markets.
Under the NBHM, 11 projects totaling Rs. 2560 lakhs have been approved for funding. These projects are intended to increase public awareness of scientific beekeeping, develop beekeepers' skills, empower women, and demonstrate how honeybees can increase crop yields and improve the quality of agricultural and horticultural products.
Additionally, it aims to inform farmers about the availability of specialized beekeeping tools for the production of high-value products such as royal jelly, bee venom, comb honey, etc., as well as research projects looking into the potential of high altitude honey, the production of specialty honey in the Uttar Pradesh districts of Kannauj and Hathrus, and the use of mustard honey to treat colon cancer in the years 2020–21.
Pros 
Develop the agroecological methods farmers in the project states may use to undertake sustainable agriculture.
The ecosystem services offered by bees can make up for little fertilizer use, reducing the impact of agriculture on the environment.
A win-win strategy that lowers input costs and raises farmers' earnings is to promote apiculture alongside agriculture.
Cons
There needs to be more awareness regarding the importance of bees for biodiversity growth.
Most pesticides are lethal to bees, and uncontrolled herbicide usage can significantly diminish the wildflowers that bees depend on for food.
Funding & Allocation
The government allocated Rs. 500 crores for three years to the National Beekeeping & Honey Mission (NBHM), a Central Sector Scheme (2020-21 to 2022-23). The growth in honey output from 76,150 MT in 2013–14 to 1,20,000 MT in 2019–20 is 57.58%. The rise in honey exports from 28,378.42 MT in 2013–14 to 59536.74 MT in 2019–20 represents a 109.80% increase.
Conclusion
The Sweet Revolution was started in 2016 by Prime Minister Narendra Modi to double farmer income by 2024, and in unity, the NBHM was launched. India is one of the top five honey producers in the world. Since 2005-2006, honey production has increased by 242%, while exports have increased by 265%. This suggests that increasing beekeeping will be crucial to double farmers' revenue by 2024. Ten thousand beekeepers, beekeeping and honey societies, firms, and companies, together with 16,000 000 honeybee colonies, have registered with the NBB.
The proposal to build a traceability source for honey and other products from beehives was authorized, and work on it has begun. This will aid in reducing adulteration in honey and other goods derived from beehives. Sixteen Integrated Beekeeping Development Centers (IBDCs) have been established as beekeeping role models. There has been a raised awareness of the importance of honeybees and beekeeping in the pollination of various crops and the adoption of scientific beekeeping.