Notre-Dame Basilica is a historical monument located in the district of Old Montreal, in Montreal, Quebec, Canada. This magnificent basilica was built between the year 1824 and 1829. This is not to confuse with another Notre-Dame located in Paris. Historically it is also the most iconic monument in Montreal. The interior of the church is most intricately designed depicting the Gothic Revival architecture. In 1984, when Pope John Paul II visited this historical monument he raised the status of this Roman Catholic Church to Basilica. Soon after it was also named as National Historic Site of Canada. We will see some more important points about this historical monument in below section.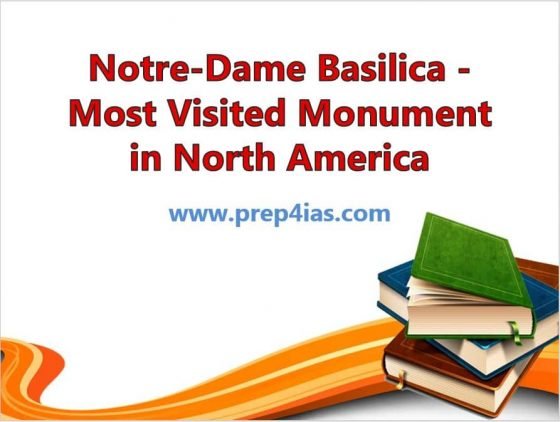 Notre-Dame Basilica - Most Visited Monument in North America
Also Read: Great Rann of Kutch – Largest Salt Desert in the World
Notre-Dame Basilica was founded in the year 1642, the same year Montreal was established. It was then known as Villa Mathy.
It is located at 110 Notre-Dame Street West, at the corner of Saint Sulpice Street.
It was designed by James O'Donnell, an Irish-American Anglican from New York City.
This church served as the first cathedral of the Diocese of Montreal from 1821 to 1822.
Notre-Dame Basilica is one of the most beautiful church in the world due to its internal paintings and scriptures.
It is filled with hundreds of intricate wooden carvings and several religious statues.
Notre-Dame Basilica is big enough to hold around 8000 to 10000 worshippers at a time.
Montreal Notre Dome Basilica is more influenced by Paris's Sasha Pell with lot of similarities in interiors with works of arts from 17th Century to 20th Century.
It's architect Victor Bordeaux was so inspired by the style and symbolism of Sasha Pell that it has been carried over to this basilica too. The symbols are all over the ceilings, intricately painted columns to the fleur-de-lis for France, roses for England in the star spangled ceiling representing heaven.
It has stained glass windows with Indigenous people tells the story how Montreal came to be. It was commissioned and added in the year 1929.
The most of the sanctuary is decorated in blues, azures, reds, purples, silver, and gold.
The basilica is quite well known for is Canada's largest set of pipe organs called Casavant Frères pipe organ from 1891, which comprises four keyboards, 92 stops using electromagnetic action and an adjustable combination system, 7000 individual pipes and a pedal board.
Most of the material used in the Church is made from Bronze.
It has two towers - the eastern tower also known as Temperance and the western tower also known as Perseverance.
It is said that the two towers that architect designed for the front of the church were not completed until more than 10 years after O'Donnell death. More on The Canadian Encyclopedia.
The vaults of the Church are colored with mesmerizing deep blue and decorated with Golden stars.
More than 11 million people visits this historical monument every year, making it one of the most visited monument in North America.
Laser Sound and Light show called Aura show in this Cathedral brings Painting and Sculptures to life.
The Notre-Dame Basilica incredible acoustics led numerous concerts presented there by renowned orchestras, including the Canadian most famous Montreal Symphony Orchestra.
Famous Canadian singer Celine Dion married in this church only.
Notre-Dame Basilica has seen thousands of religious ceremonies and events over the years, including the funeral of Sir George-Étienne Cartier in 1873 and the Eucharistic Congress of 1910.
Since 2004, the basilica also host the International Organ Festival at Notre-Dame of Montreal.
The church witness the celebration of more than 100 Baptisms and over 120 marriages every year.