Sumitranandan Pant, born on the 20th of May in the year 1900, was an Indian poet who passed away on the 28th of December in the year 1977. He was highly renowned for his poetry during the 20th century and the Hindi language was highly enriched by his works. His poems drew inspiration from the beauty of nature, the people and the beauty that lies within.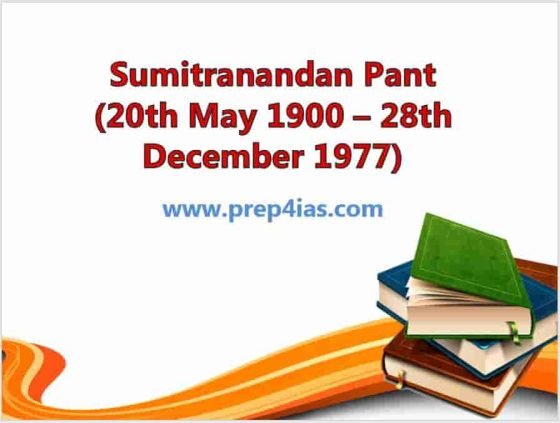 Sumitranandan Pant (20th May 1900 – 28th December 1977)
Also Read: Sarojini Naidu (13th February 1879 - 2nd March 1949)
Growing up, Pant never experienced a lack of financial security due to his father's role as manager of a local tea garden, as well as being a landholder. Growing up in the same village, he developed a strong appreciation for the beauty and flavor of rural India, which is a common theme throughout his works.
During the year 1918, Pant joined Queens College located in Banaras. He immersed himself in the works of Sarojini Naidu, Rabindranath Tagore, and the English Romantic poets when he arrived at the new location. The impact of these figures was so powerful that it had an effect on how he wrote. He decided to move to Allahabad in 1919 for his studies at Muir College. As a sign of his opposition to the British, he only stayed at the school for two years.
After dedicating himself to poetry he then released a publication named Pallav in 1926. His collection of works made him a prominent figure in the Hindi renaissance that was initiated by Jaishankar Prasad. In the introduction to the book, Pant expressed his frustration that people who speak Hindi often think in their native language but are compelled to express themselves in another. His opinion of Braj was that it had become antiquated, and he wanted to be a part of creating a new national language.
In the year 1931, Pant made the decision to move to Kalakankar. He lived a life of solitude and seclusion for nine years, closely connected to the beauty of nature. At the same time he was entranced by the writings and ideas of Karl Marx and Mahatma Gandhi, and he devoted several stanzas of his poetry to them during this period. Pant went back to Almora in 1941 and joined drama classes at the Uday Shankar Cultural Centre while he was there.
Aurobindo's The Life Divine had a great impact on him, which was evident due to the amount of time he spent reading it. Within a period of three years, he shifted his residence from one place to another, eventually ending up in Pondicherry where he was able to visit Aurobindo's ashram. After the end of World War II, he made his way back to Allahabad in 1946 to take up his place among the other prominent writers in the country.
Pant's Work
Sumitranandan Pant was a prolific writer and poet. Some of his most famous works include:-
Pallav (1926)
Yugant (1929)
Gunjan (1931)
Dhauli (1936)
Gramya (1937)
Chidambara (1940)
Vishvarup (1946)
Neelkanth (1947)
Kala aur Budhdha (1952)
Lokayatan (1954)
Yugavani (1959)
Rangbhoomi (1964)
Chidambaram ki Pratima (1964)
Jayashankar Prasad ki Kavya Parampara (1967)
Muktibodh ki Kavitayen (1968)
Sahitya aur Samaj (1971)
Him Tarangini (1973)
Vaani ki Vyatha (1975)
Kavita ke Naye Pratiman (1977)
Gramya Gadya (1979)
These works explore a range of topics such as the beauty of nature, feelings of love, matters related to spirituality, pressing social issues and political questions. Sumitranandan Pant's language and style of writing poetry is greatly admired, and he has left an indelible mark on Hindi literature with his invaluable contributions which have been an inspiration for many writers and readers across generations.
Literary career
He is seen as one of the most prominent poets of the Chhayavaadi school of Hindi literature and is highly respected. Pant was an author who mostly wrote in a language that was heavily influenced by Sanskrit. Pant was a prolific author, having published a total of twenty-eight works, composed of a variety of forms such as poetry, verse plays and essays.
In addition to Chhayavaadi poems, Pant also wrote progressive, socialist, humanist, and philosophical poems that were greatly influenced by Sri Aurobindo. In the early 1940s, according to the words of the late scholar and translator of Pant, David Rubin, two new schools were emerging: the psychological and experimental ones.
Role in Freedom Struggle
Sumitranandan Pant made a name for himself as a renowned poet and writer and was also instrumental in the Indian freedom struggle as his writings had a great impact. His commitment to the freedom movement was fueled by his deep admiration of Mahatma Gandhi's ideals.
Pant's poetry had a profound impact on the people who were inspired and motivated to join the freedom struggle. His poems expressed an immense feeling of patriotism and love for his country. He used his literary knowledge to shed light on the unfairness of the society's social and economic standings.
His renown work "Banaras ki Ek Raat" is a remarkable poem that symbolizes the intensity of the Indian independence fight. The poem recounts the night when the citizens of the Indian city of Banaras rose up in defiance of the British colonial rulers. Pant was a key contributor to the Quit India Movement, which was launched in 1942 with the aim of achieving independence for the nation. He was apprehended by the British officials and spent numerous months behind bars.
In honor of Sumitranandan Pant's participation in the Indian independence movement, he was presented with the Sahitya Akademi Award in 1960 for his work, "Chidambara." He was bestowed upon with two of India's highest civilian honors, the Padma Bhushan in 1961 and the Padma Vibhushan in 1971, which was a great honor for him.
Awards
In 1960, Pant was awarded the Sahitya Academy award, a prestigious award given in India, in recognition of his book Kala Aur Budhdha Chand.
In 1969, Pant was bestowed with the Jnanpith Award, which is widely thought of as India's most highly esteemed recognition for literature, becoming the first Hindi poet to receive it. This was awarded to him for a collection of his most famous poems titled Chidambara.
In 1961, the Indian Government bestowed upon him the esteemed honour of Padma Bhushan.
Sumitra Nandan Pant wrote the Kulgeet of the Indian Institute of Technology Roorkee, which is proudly known as the 'Jayati Vidya Sansthan'.
Pant's Linguistic Style
Pant's language was incredibly plain and straightforward. Drawing from both the Bengali and English languages, he adopted a lyrical style. His style is marked by an emphasis on simplicity, painting, delicate sentiment, and music.
Death
On December 28th 1977, the renowned Poet of Hindi literature Sumitranandan Pant sadly passed away in the city of Sangam, Allahabad. Sumitranandan Pant is highly regarded as the leading poet in the modern Hindi literature period.
Conclusion
Sumitranandan Pant was a renowned poet, writer, and literary figure of the Hindi language, who contributed significantly to the development and enrichment of Hindi literature. He was one of the pioneers of the Chhayavadi school of poetry, which emphasized romanticism and humanism.
Pant's poetry is characterized by its depth, sensitivity, and emotional intensity, which make it appealing to a wide range of readers. His works have been widely translated into several languages, and he has been honored with numerous awards and accolades, including the Sahitya Akademi Award, the Padma Bhushan, and the Padma Vibhushan.
Apart from his poetry, Pant was also a prolific essayist and a social and political activist. He was deeply committed to the ideals of Indian independence and worked tirelessly to promote social justice and equality. In conclusion, Sumitranandan Pant was a literary giant whose contributions to Hindi literature continue to inspire and captivate readers across generations. His legacy lives on through his works, which remain an invaluable treasure of Indian culture and literature.