On September 25, 2014, the Deen Dayal Upadhyaya Grameen Kaushalya Yojana (DDU-GKY) Antyodaya Diwas was announced by the Ministry of Rural Development (MoRD). DDU-GKY is a component of the National Rural Livelihood Mission (NRLM), which has the dual goals of enhancing the diversity of poor rural families' earnings and addressing the professional ambitions of rural youth.
History
A 109.73 million skills deficit will exist in 24 important industries by 2022, according to the National Policy for Skill Development & Entrepreneurship 2015. This amount can be reached by taking care of the 55 million BoP from rural India. Additionally, a 2013 FICCI and Ernst - Young research found that there will be a global shortage of over 47 million qualified workers by 2020. India now has an unheard-of chance to teach the young people in its BOP population, employ them globally, and reap the benefits of its demographic dividend.
Need for the Scheme
Among the poor, there is a significant desire for economic possibilities and great potential for them to advance their professional skills. Social mobilisation and a network of solid institutions are necessary to turn India's population surplus into a dividend. In order to make the rural poor acceptable to both Indian and international employers, quality and standards are crucial in the skilling delivery process.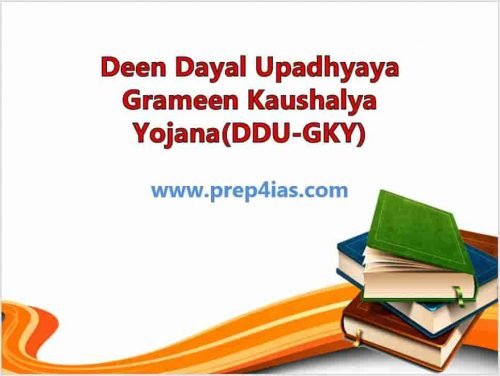 Deen Dayal Upadhyaya Grameen Kaushalya Yojana(DDU-GKY)
Also Read: What is the Sovereign Gold Bond Scheme ?
DDU-GKY focuses exclusively on rural children from low-income households between the ages of 15 and 35. It supports the government's social and economic initiatives, such as the Make In India, Digital India, Smart Cities, and Start-Up India, Stand-Up India campaigns, as part of the Skill India campaign. Rural areas are home to more than 180 million people, or 69% of the country's youth population, between the ages of 18 and 34. About 55 million of these young people come from low-income families and are unemployed or working part-time.
The strategy of this programme is to change the focus from training to career advancement, allowing the poor and disenfranchised to reap growth's advantages and easing the agony of migration when it is inevitable. A proactive strategy for establishing alliances and monitoring inputs and outputs with a primary emphasis on placement or output. It enables states to take control of DDU-GKY projects fully.
It has been decided not to consider any more Multi-State Projects (MSP), with the State government as the primary player - Single State Project (SSP) to Annual Action Plans (AAP), a Special scheme in collaboration with the Ministry of Development of North Eastern Region (DONER) for skilling projects specifically tailored to the needs, requirements, and unique characteristics of States in the northeast, Enhancing the Capacity of Project Implementing Agencies (PIAs), Consent and the State share is mandatory.
DDU-GKY provides funding to private education and skill training professionals so they may open cutting-edge, cutting-edge training facilities. These training facilities employ qualified instructors who teach students life skills, computer and tablet use, spoken English, and job-oriented skills. Students are also provided with assistance with job placement when their training is over. Students receive free training and free textbooks, clothes, iPads, and study supplies. In the event of residential training facilities, meals and lodging are free. For each training day that is completed, travel expenses to and from the training facility, as well as one lunch, are covered at no cost.
Regional inclusion of applicants is made possible by the Himayat special sub-program for Jammu and Kashmir's youth, which is run by MoRD under the state's ASDP and serves both urban and rural youth as BPL and APL individuals. Additionally, a unique programme called Roshni has been introduced with distinct criteria for tribal regions, and crucial Left Wing Extremist (LWE) impacted districts that consider the unique circumstances in a few selected essential LWE districts. In particular, it offers instruction for various time frames.
A unique component ensures the candidates' complete social inclusion by requiring the participation of socially disadvantaged groups. 50% of the monies would go to SCs and STs, 15% to minorities, and 3% to those with disabilities. There should be a third of women among those who are covered.
Funding components cover over 250 trade sectors under DDU-GKY, including retail, hospitality, health, construction, automotive, leather, electrical, plumbing, gems, jewellery, etc. The sole requirement is that skill development be demand-based and result in job placement for at least 75% of the trainees.
In funding projects, priority is given to PIAs offerings. The PIAs or organisations that engage in skill training to address continuing internal human resource demands include captive employment and foreign placement. The industry supports internships with industry co-funding.
Over two years, a minimum of 10,000 DDU-GKY trainees can be guaranteed skill training and placement by Champion Employers PIAs. High-ranking educational institutions are those prepared to take on DDU-GKY projects and have a minimum NAAC grade of 3.5 or are community colleges with financing from the University Grants Commission or the All India Council for Technical Education (AICTE).
The Department of Rural Development held more than 174 "women-centric" mobilisation camps under DDU-GKY as a part of the Azadi Ka Amrit Mahotsav to commemorate International Women's Day in 2022.
With a particular focus on placements, the DDU-GKY programme is being conducted for impoverished rural kids in 27 states and 3 UTs. Rural disadvantaged kids are being trained by more than 871 Project Implementation Agencies (PIAs) in more than 2381 training facilities. By the end of January 2022, 7.5 lakh young people had been placed, and about 11.5 lacks had received training. One-third of all applicants taught under the DDU-GKY system must be women by law. The programme targets underprivileged rural youngsters between the ages of 15 and 35; the maximum period for female candidates is 45.
Pros 
The Deen Dayal Upadhyay Gramin Kaushal Yojana has contributed significantly to Atmanirbhar Bharat via skill development.
DDU-GKY is crucial for better success in educating and placing the rural young, coupled with integrated farming activities for rural development across the nation.
As part of the Skill India initiative, DDU-GKY supports social and economic activities.
Cons
There exist a need for formal education, marketable skills and a shortage of financial resources.
The problem of lower remuneration, even after skill training, persists
Placement challenges have been a significant issue.
Funding of the Scheme
DDU-GKY provides funding support for placement-linked skilling projects that address the market demand with funding support ranging from Rs. 25,696 to over Rs. 1 lakh per person, depending on the project's duration and whether the project is residential or non-residential. DDU-GKY funds projects with training duration from 576 hours (3 months) to 2304 hours (12 months).
Conclusion    

                       
DDU-GKY focuses solely on rural children from low-income households between the ages of 15 and 35, with the mission of "Transforming rural poor youth into an economically independent and internationally competitive workforce." DDU-partners GKYS have value-adding skills that are something to be proud of. Partners are encouraged to innovate in order to expand scale and capability.
The partners that DDU-GKY has brought into its learning ecosystem are experts in their disciplines who have a genuine desire to improve lives. These partners are also a part of its unique implementation structure. Partners are supported through investments, capacity building, retention programmes, links to international placement, and technology support for training.