In this article, we will discuss about India's First Indigenous Aircraft Carrier – INS Vikrant which will be Commissioned by 2022 as per the Recent report. Although Carrier is delayed by almost 6 years but it is finally going to join the Indian Naval Force soon. This carrier is part of India's long term plan to become self reliant and dominant naval force around the region.
What is Aircraft Carrier
An aircraft carrier is a large, flat shape warship used for carrying fighter aircrafts to long distances over the sea and from where an aircraft can easily takeoff and land. It is also equipped with all the facilities to manage and maintain aircraft in the mid sea and fully armed to protect itself from any incoming threats.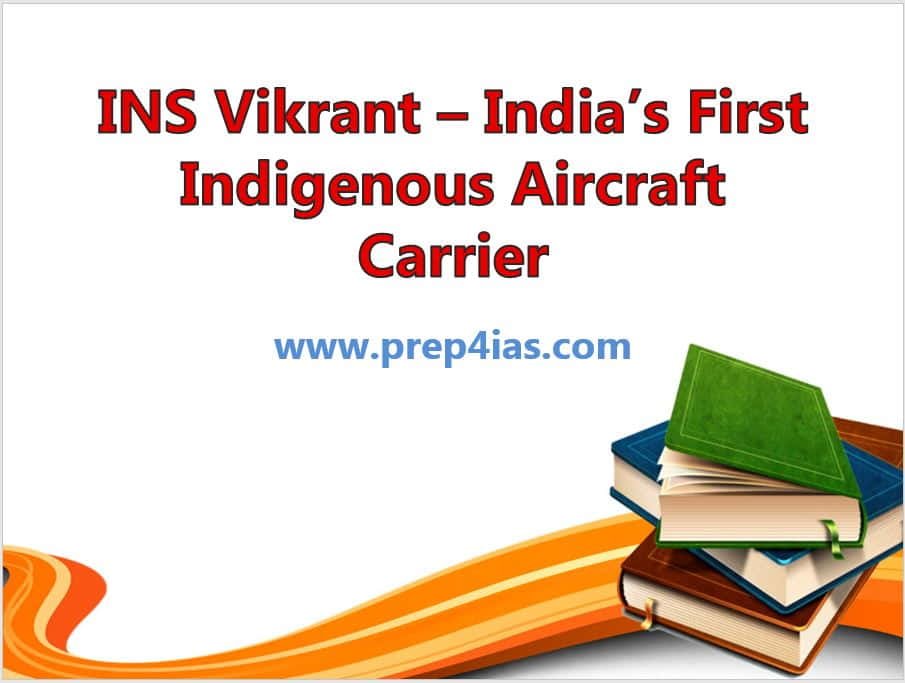 INS Vikrant – India's First Indigenous Aircraft Carrier
INS Vikrant set to be the first Indigenous Aircraft Carrier to be inducted into the Navy. It is constructed by Cochin Shipyard in Kochi, India. The work on the Ship started way back in 1999 and the first keel laid down on Feb 1999. The basin trials completed on December, 2020 and soon it going to complete sea trials as well. With so many delays and cost overruns, project cost is currently estimated to be around 10-11 billion dollars. More on Indian News Express Article.
Design and Description of INS Vikrant
It is 262m long and 62m wide and displaces about 40,000 metric tons of water. The design feature also includes:-
STOBAR Configuration with a ski-jump
Can carry upto 30 Aircraft which includes 24-26 fixed wing combat aircraft.
Powered by Four General Electric LM2500+ Gas Turbines on two shafts.
Can generate upto 80 MW of power.
Primarily designed to carry Mikoyan MiG-29k and Kamov KA-31 helicopter or Westland Sea King Helicopters.
Is INS Vikrant the First Aircraft Carrier of India
No, the recently built INS Vikrant is not the first aircraft carrier of India. Before this carrier, India had another carrier with the same name which was decommissioned in 1997. The old INS Vikrant was the India's and Asia's first Carrier after Second World War. It played a key role during 1971 Bangladesh Liberation War. In 2014, Metal scrapped from the INS Vikrant and later it was used by Bajaj Group to built Bajaj V motorcycle. It was done to honor the Service of INS Vikrant.
Any Other Aircraft Carrier India Currently have
Apart from INS Vikrant, India also commissioned INS Viraat in 1987 and after serving for almost 30 years, it got decommissioned in 2016. This Carrier was purchased from Britain where it was previously employed with the name HMS Hermes.
India currently operating another carrier called INS Vikramaditya which was commissioned in 2013. This carrier was purchased from Russia after years of negotiation where it was previously employed with the name first as Baku and then as Admiral Gorshov.
Why India Need an Aircraft Carrier
To increase the maritime outreach.
To support the other Indian Vessels for distant Naval Operations.
To help Launching a conventional strike against adversaries.
To make Indian Navy a preemptive force against regional or foreign enemies.
Less dependent on foreign force to protect its territory.
Future of India's Aircraft Carrier 
According to Experts, India need atleast 3 Active Carriers all the time to protect its maritime interest and to simultaneously launch an offensive action if needed. At present, with INS Vikrant currently undergoing sea trials India currently has only one Carrier in active service – INS Vikramaditya. Although to increase the maritime capability India has been planning third Aircraft Carrier, currently named as INS Vishaal but given the cost and current defence budget it is hard to tell when it will become part of the Indian Navy. There are lot of planning still going on in this. As per the current plan, it is suppose to join the service by 2030.