Under the direction of Prime Minister Shri Narendra Modi, "Rashtriya Gokul Mission," (RGM) a unique programme under the National Program for Bovine Breeding and Dairy Development, was introduced to the nation in December 2014 with the goal of preserving and advancing native bovine breeds. The programme is crucial for increasing milk output and productivity of cows to meet the nation's rising milk demand and to increase the profitability of dairy farming for the nation's small-scale farmers. With a budget allocation of Rs. 2400 crore, the programme is also continued under the umbrella of Rashtriya Pashudhan Vikas Yojna from 2021 to 2026. More on PIB.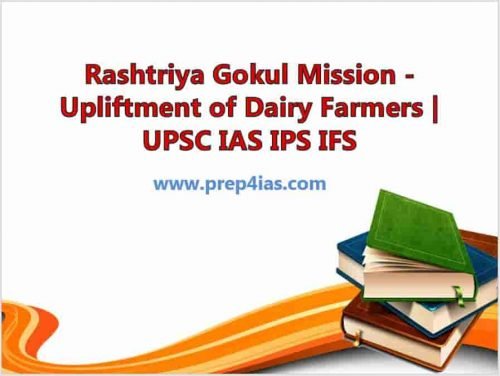 Rashtriya Gokul Mission - Upliftment of Dairy Farmers | UPSC IAS IPS IFS
Also Read: Sarva Shiksha Abhiyan(SSA) - Universalization of Elementary Education (UEE)
The Rashtriya Gokul Mission(RGM) will increase productivity, and the program's advantages will spread to all of India's cattle and buffaloes, especially to small and marginal farmers. Since women perform more than 70% of the effort involved in raising animals, this scheme will especially benefit women.
Necessity of Preserving Native Breeds
9 million cattle and 108.7 million buffalo make up India's 299.6 million bovine population.
Of this, 80% of the cattle are domesticated and unremarkable breeds.
Thirteen registered buffalo breeds and 41 registered indigenous cow breeds comprise India's bovine genetic resource.
Native cattle are strong and hardy, and they are well suited to the climate and surroundings of their separate breeding tracts.
Native animal milk has a high fat and SNF (solids not fats) concentration.
Additionally, research indicates that the production of native breeds would likely be affected by climate change far less than that of exotic animals.
However, the population of native animals is dwindling, and some breeds, like the Punganur, are now in danger.
Rashtriya Gokul Mission has been started to encourage the preservation and development of indigenous breeds for this reason.
Objective or Purposes of Rashtriya Gokul Mission
Breed enhancement programmes are being implemented for indigenous breeds in order to expand stock and improve genetic composition.
Increasing the number of disease-free, genetically superior females and reducing the spread of illnesses will increase milk production and productivity in the cattle population.
Using premier indigenous breeds like the Red Sindhi, Sahiwal, Rathi, Gir, and Sahiwal to improve unremarkable cattle. Distributing disease-free high genetic merit bulls for natural service.
To use germplasm with high genetic merits to bring all breedable females under organised breeding through (Artificial Insemination) AI or natural service.
Providing farmers with high-quality Artificial Insemination (AI) services
To develop a bovine germplasm e-market platform to link breeders and farmers
In order to promote trade in livestock and animal products, Sanitary and Phytosanitary (SPS) difficulties must be resolved.
To use genomics to early-stage pick breeding bulls with high genetic quality.
Rashtriya Gokul Mission Components
The following significant elements are included in Rashtriya Gokul Mission:-
a) Breed Improvement through Contemporary Reproductive Methods
The founding of embryo transfer technology.
Sex sorted Semen Production
The National Bovine Genomic Center for Indigenous breeds is established.
b) Enhancement of Production and Productivity
Field Performance Recording
Progeny Testing
Pedigree Selection
c) Increasing the Area Covered by Artificial Insemination (AI)
Creation of MAITRI Centers (Multi-purpose Artificial Insemination Technicians in Rural India)
Strengthening the LN storage, transport, and distribution system Improving the capabilities of the current AI technicians
d) Awareness Programmes
Nationwide Artificial Insemination Programme
Organisation of Fertility camps
Launch of e-Gopala App
Awards to Farmer (Gopal Ratna/ Kamdhenu)
e) Conservation of Indigenous Breeds
Establishment of Gokul Gram/ Integrated Cattle Development Centre
Establishment of National Kamdhenu Breeding Centres
Pattern & Budget of Funding
A subsidy of Rs 5000 per IVF pregnancy would be made available to participating farmers as the Government of India shares for the Accelerated Breed Improvement Program component. All other components of the Scheme will be executed on a 100% grant-in-aid basis.
Promoting sex-sorted semen under the component subsidy will give participating farmers access to up to 50% of the cost of sex-sorted semen.
Establishing a breed multiplication farm under the component subsidy will give entrepreneurs access to up to 50% of the project's maximum capital cost of Rs. 2.00 crore.
Important Projects under RGM
1) Incentives to encourage farmers and breeder organisations to raise indigenous breeds of cattle: The following awards have been established under Rashtriya Gokul Mission each year in order to encourage farmers to raise indigenous breeds and to increase the production and productivity of indigenous breeds:-
Gopal Ratna awards: Awarded to farmers that preserve the best herd of an indigenous breed and use optimum management techniques
The Kamdhenu awards are given for the best-managed indigenous herd by organisations, trusts, non-profits, gaushalas, or breeders societies.
For the five regions of Hill and North Eastern, North, South, East, and West, there are three Gopal Ratna Awards (1st, 2nd, and 3rd position) and three Kamdhenu Awards. Each prize consists of a citation and a financial incentive of Rs 5,00,000, Rs 3,00,000, and Rs 1,000,000 for first, second, and third place in each region, respectively. Since 2017–18, awards under the Mission have been given out; so far, 22 Gopal Ratna and 21 Kamdhenu awards have been given out.
2) Creation of Gokul Grams: The Rashtriya Gokul Mission also plans to create integrated cattle development facilities called "Gokul Grams" to promote indigenous breeds, up to 40% of which will be unique breeds.
To advance scientifically the conservation and rearing of indigenous cattle.
To breed bulls of indigenous breeds with outstanding genetic quality.
To promote common resource management and improve contemporary farm management techniques.
To efficiently use animal waste, such as cow dung and urine.
Under the plan, the establishment of 20 Gokul Grams with a budget of Rs 197.67 crores has been approved for 13 states. States have been given access to Rs. 68 crores for the creation of Gokul Grams.
3) Establishment of National Kamdhenu Breeding Centers: Two National Kamdhenu Breeding Centers (NKBC) were established in Madhya Pradesh and Andhra Pradesh to serve as a repository for all indigenous breeds' genetic material and to provide farmers raising these breeds with certified genetic material for expanding their herds.
4) An online marketplace for high-quality, disease-free bovine germplasm in the forms of: (i) semen; (ii) embryos; (iii) calves; (iv) heifers; and (v) adult bovines with various organizations/stakeholders is called e-Pashu Haat - Nakul Prajnan Bazaar.
5) Pashu Sanjivni: An initiative to promote animal wellness, including the distribution of Animal Health Cards (also known as "Nakul Swasthya Patra"), UID identification, and data uploading to a national database.
6) Advanced Reproductive Technology: Including Multiple Ovulation Embryo Transfer (MOET), In-Vitro Fertilization (IVF), and the Semen Sorting Technique to Increase the Availability of Disease-Free Female Bovines.
7) The National Bovine Genomic Center for Indigenous Breeds (NBGC-IB) will be developed to enable the early, highly accurate selection of breeding bulls with superior genetic value.
Efforts by Central Government to increase milk production under the Mission
Extending the use of artificial insemination, expanding the use of AI, and raising milk output and productivity of cattle, including indigenous breeds
The hiring of MAITRIs to provide services for artificial insemination at farmers' doorsteps
Pedigree selection and progeny testing are being used to produce bulls with high genetic value, including native breeds.
Accelerated programme for breed improvement employing sex-sorted sperm from bulls with high genetic value, including native breeds
Establishing a breed multiplication farm, particularly with indigenous breeds; and Accelerated breed improvement programme employing IVF technology for the propagation of elite animals of indigenous breeds.
Additional Central Government Initiatives 
National Programme for Dairy Development (NPDD): The National Programme for Dairy Development (NPDD) is responsible for building or upgrading the infrastructure needed to produce high-quality milk and to purchase, process, and market milk and milk products.
Dairy Processing and Infrastructure Development Fund (DIDF): The goal of the Dairy Processing and Infrastructure Development Fund (DIDF) is to build or upgrade the infrastructure for milk processing, chilling, and value addition.
National Livestock Mission: The National Livestock Mission includes coverage for the development of feed and fodder and livestock insurance, which includes coverage for dairy animals.
National Animal Disease Control Programme (NADCP): For the prevention of Brucellosis and Foot and Mouth Disease in dairy animals
Animal Disease Control Programme: The establishment of mobile veterinary clinics to provide veterinary services at farmers' doorsteps and the management of economically significant livestock diseases.
Plan of Action to Advance the Dairy Industry
As part of the Aatmanirbhar Bharat package stimulus, the Ministry of Fisheries, Animal Husbandry, and Dairying launched the Animal Husbandry and Infrastructure Development Fund (AHIDF) in 2020 with an outlay of Rs. 15,000 Crores and the Dairy Processing Infrastructure Development Fund (DIDF) in 2017.
As a part of the Prime Minister's Aatmanirbhar Bharat Abhiyan, Rs 8000 crores were set aside in 2020 for the purpose of assisting milk processing and product plants under the AHIDF for implementation during 2020–2021 and 2022–2023 with the goals of increasing milk processing infrastructure, granting greater access to unorganized rural milk producers, making protein-enriched quality milk products available, fostering entrepreneurship, and promoting exports. Farmer Producer Organizations (FPOs), private businesses, independent contractors, Section 8 firms, and MSMEs are all eligible recipients of the programme (Micro, Small & Medium Enterprises).
In accordance with the plan, the Schedule banks will lend money to eligible recipients up to 90% of their requested amount in exchange for a minimum 10% commitment. The Central Government would offer beneficiaries covered by MSME-defined ceilings an interest subsidy of 3% as well as a credit guarantee. With a two-year moratorium, the maximum repayment time is 10 years.
In order to create or strengthen milk processing, value addition, and chilling facilities for implementation up until 2022–2023, DIDF was launched in 2017–2018. Milk Producer Companies (MPC), National Dairy Development Board (NDDB) subsidiaries, Dairy Co-operatives, Multi-State Dairy Cooperatives, Self Help Groups (SHGs), and Farmer Producer Organizations (FPOs) registered under the Cooperative and Companies Act are all eligible recipients of the programme. The National Dairy Development Board (NDDB), National Cooperative Development Corporation (NCDC), and National Bank for Agriculture and Rural Development (NABARD) offer loans to qualifying recipients under the programme totalling Rs. 8004 Cr.
Expansion in the Dairy Industry
From 2014–15 to 2019–20, the number of livestock in our nation increased at a compound annual growth rate (CAGR) of 8.15% (at constant prices). From 2014–15 to 2019–20, the country's milk, egg, and meat output will increase at a compound annual growth rate of 6.28 per cent, 7.82 per cent, and 5.15 per cent, respectively. According to National Account Statistics 2021, the total value of cereal production was surpassed by milk production in 2019–20, which had a value of Rs. 8.39 lakh crore (at current rates).