The sinking of USS Indianapolis was probably the greatest loss suffered at sea from a single ship in the history of US Navy. USS Indianapolis was a Portland-class heavy cruiser of the United States Navy, named after the city of Indianapolis, Indiana. In July 1945, Indianapolis completed a top-secret high-speed trip to deliver parts of atomic bomb, also known as little boy on the island of Tinian. The construction of Indianapolis was started by New York Shipbuilding Corporation on 31 March 1930. It launched on 7 November 1931, and commissioned on 15 November 1932.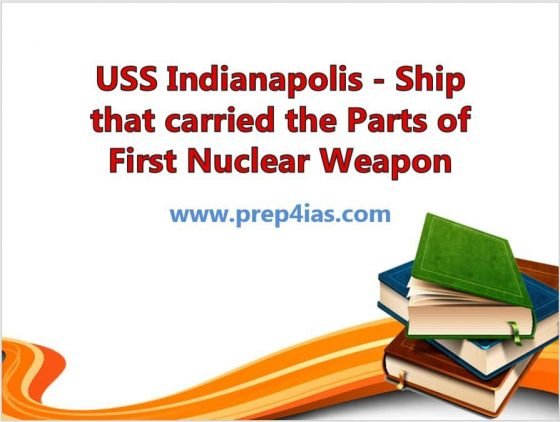 USS Indianapolis - Ship that carried the Parts of First Nuclear Weapon
Also Read: 50 Most Frequently Asked Questions About Titanic History and Its Sinking
She was the second ship named after the city of Indianapolis following the cargo ship of same name in 1918.
She became the flagship of US Fifth fleet in the year 1943.
Ship did not have any torpedo tubes.
She was participated in the bombardment of Iwo Jima in February 1945.
Ship also hosted President Franklin Roosevelt to his goodwill trip to South America.
During World War II, Admiral Raymond Spruance often used the ship as flagship to command the fifth fleet.
Indianapolis also supported the American units in the Battle of Aleutian Islands.
In January 1943, Indianapolis supported a landing and occupation on Amchitka, part of an Allied island hopping strategy in the Aleutian Islands. More on wikipedia.
She was also one of the cruisers that bombarded the islands of Kwajalein Atoll in the year 1944.
The ship had two distinctive raked funnels, a tripod foremast, and a small tower and pole mast aft.
It was originally designed for a standard displacement of 10,258 long tons, and a full-load displacement of 12,755 long tons, however after completion it did not reach this weight, displacing 9,950 long tons.
The ship had four propeller shafts and four Parsons GT geared turbines and eight White-Forster boilers. It could reach speeds of more than 32 knots.
USS Indianapolis was 610 feet 3 inches (186 metres) long.
In March 1945, ship was damaged in the Kamikaze attack but soon it was repaired and returned to active service.
The crew of USS Indianapolis was collectively awarded a Congressional Gold Medal on 20th December, 2018.
USS Indianapolis was torpedoed by Japanese submarine I-58, resulting into sinking of ship in 12 minutes.
Out of 1195 crewmen aboard, approx. 300 went down with the ship and remaining 890 faced exposure, dehydration, saltwater poisoning and shark attacks. By the time help arrived, only 316 remained alive including the Captain.
Charles Butler McVay, the Captain of the USS Indianapolis was later found guilty for failing to perform zigzag(a technique used by ships to avoid submarines) maneuvering and was court martialed. This made him the only naval officer in world war II to be court martialed for losing his ship out in the combat.
However he was not found guilty of another charge where he failed to promptly issue orders to abandon the ship after the torpedo attack. Military court recommended clemency and the sentence was kept side. More on Britannica.
At the court martial, the commander of the Japanese Navy submarine I-58 also testified that the zigzag maneuver would not have helped much in preventing the torpedo attack.
Many believed that Captain McVay was made scapegoat by the US Navy. It is so because later it was confirmed that US Navy was aware that Japanese submarine is active in that area still request from Captain about the escort was denied.
Upon his retirement in 1949, Captain McVay was promoted to rear admiral. Later, he committed suicide in 1968.
US government delayed reporting the tragedy until August 15, 1945, the same day it announced that Japan had agreed to surrender.