Atmanirbhar Bharat Abhiyan is the concept of self-reliance, was introduced by the Hon'ble Prime Minister Shri Narendra Modi in the wake of the Covid-19 Pandemic which was the worst crisis, the world is facing in the 21st century. The program was launched on 12th May 2020 and under it, various economic packages were introduced. Under this scheme, the government shelled out INR 20 lakh crores which is equal to 10% of India's GDP, a stimulus package to help recover the economy by promoting incentives for domestic production. The main aim and objective of the 'Self-reliant India' (Atmanirbhar Bharat Abhiyan) are as follows :-
Develop the supply chain of India, to change India's image as a hub of the global supply chain.
Give a boost to the private sector capabilities and increase job prospects.
Enhance the income of Indian manufacturers by giving incentives to the "Make in India" campaign.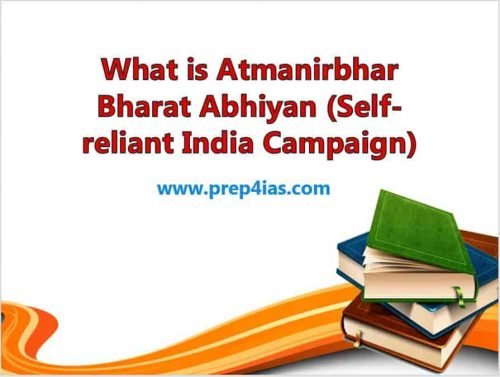 What is Atmanirbhar Bharat Abhiyan (Self-reliant India Campaign)
Also Read: Ayushman Bharat Central Armed Police Forces(CAPF) Healthcare Scheme
The vision and aim of this program were initially to fight the Covid-19 pandemic in India but later it was broadened to make the country and its citizens independent and self-reliant in all senses. It encompasses themes such as "Local for Global", "Make in India for the World" and "Vocal for Local". Economy, infrastructure, technology, demography and demand are the five pillars of Atmanirbhar Bharat Abhiyan. More on PIB.
Five Tranches under Atmanirbhar Bharat Abhiyan
The Atmanirbhar Bharat stimulus package announced by the government consists of the following five tranches:-
1. First Tranche: Small Businesses such as MSMEs
The MSMEs and other small businesses were provided various incentives.
a) Collateral-free Automatic Loans for Businesses, and MSMEs
Small businesses and MSMEs were given an "Emergency Credit Line" from the financial institutions, which was up to 20% of the entire outstanding credit. To become eligible under this scheme, the borrowers have to have Rs 25 crore of the outstanding loan and a minimum of Rs.100 crore of turnover. The minimum tenor of the loan has to be 4 years. The interest was capped with a 12-month moratorium given for principal repayment. The scheme was valid till 31st October 2020.
b) Subordinate Debt for stressed MSMEs
To give equity support to stressed MSMEs, the government had provided Rs20,000 crores as subordinate debt. Only NPA and stressed MSMEs were eligible for this scheme, it was estimated that around 2 lakh MSMEs would benefit from this scheme. Under this scheme the banks would be getting Rs.4,000 crore credit guarantee support from CGTMSE.
c) Changed definition for MSME
The government focused on reducing the threshold for MSMEs. The revised classification of MSMEs gave composite criteria and changed the criteria from investment in plant & Machinery or Equipment to Composite Investment and annual turnover. The following table shows the previous and revised MSME classification.
Previous MSME Classification:-
Previous MSME Classification
Criteria: Investment in Plant & Machinery or Equipment
Classification
 Micro
Small
Medium
Mfg. Enterprises
Investment <Rs. 25 Lakh
Investment <Rs. 5 Crores
Investment <Rs. 10 Crores
Services Enterprise
Investment <Rs. 10 Lakh
Investment <Rs. 2 Crores
Investment <Rs. 5 Crores
Revised MSME Classification:-
Revised MSME Classification
Composite Criteria: Investment and Annual Turnover
Classification
 Micro
Small
Medium
Mfg. Enterprises

& Services Enterprise

Investment in Plant and Equipment:

Maximum of Rs. 1 crore and Maximum of Rs. 5 crores in Annual Turnover
Up to Rs.10 crore and Annual Turnover; not more than Rs. 50 crores
Up to Rs.50 crore and Annual Turnover; not more than Rs. 250 crores
d) Other measures
Government contributions to qualifying establishments' EPF accounts and extended EPF support reaching 2800 Crore.
Payment of 12% employer and 12% employee contributions was deposited into EPF accounts of qualified enterprises as part of the Pradhan Mantri Garib Kalyan Package (PMGKP).
Employer and employee EPF contributions were reduced by Rs. 6750 crores, this happened due to the reduction of statutory PF contribution to 10% from 12 % for the next 3 months.
30,000 crores- Special Liquidity Scheme for NBFCs, HFCs, and MFIs. The investment under this was made in investment grade debt paper of NBFC/HFCs in the primary and secondary market.
Scheme for partial credit guarantees for NBFC/MFI liabilities totaling Rs. 45,000 crores, the loss of up to 20% was borne by the government of India.
90,000 crores in liquidity injection for DISCOMs through Power Finance Corp. and REC.
2. Second Tranche: Migrant, farmers and poor
a) Direct support post-COVID
The government of India provided direct support to the rural economy by providing a 3-month loan moratorium upon Rs. 4.22 lakhs crore on agricultural loan by which 3 crore farmers benefitted. Also, a total of 25 lakhs Kisan credit cards were issued with a total limit reached up to Rs. 25,000 crores.
b) Migrant and urban poor support
The state government was allowed to use State Disaster Response Fund (SDRF) which was utilized in the provision of food, water and shelter to the interstate migrant. With Rs. 11002 crore central government contributed towards SDRF.
c) MGNREGS support
Migrants who returned to rural areas from urban areas due to the lockdown were supported by The Mahatma Gandhi National. Rural Employment Guarantee Act 2005 MGNREGS.
d) Other measures
The government spent Rs. 3500 crores to distribute Free food grains to migrants.
MUDRA-Shishu loan interest subsidy by Rs. 1500 crores.
Special credit line of Rs.5000 crores for street vendors.
Extension of the housing sector's credit-linked subsidy programme for middle-income individuals – Rs. 70,000 crores.
Additional urgent operational finance provided by NABARD to farmers - Rs. 30,000 crores.
Additional concessional credit of Rs. 2,00,000 crores via Kisan Credit Cards.
A beneficiary of One Nation One Ration can buy grains from any ration outlet in the nation with this card.
Through a programme under PMAY and affordable rental housing complexes (ARHC) under the PPP method, inexpensive housing is provided for urban poor people and migrants.
3. Third Tranche: Agriculture
a) Agricultural support
NABARD to provide Rs30,000 crore Additional Emergency Working Capital for farmers, this was above the existing aid given by the centre and will benefit approximately 3 crore farmers. Rs18,700 crores were utilized towards the "PM KISAN fund" and up to Rs6,400 crores were paid for "PM Fasal Bima Yojana".
b) Agricultural infrastructure
The government budgeted Rs1 lakh crore to strengthen Agri infrastructure by forming the "Agri Infrastructure Fund". The fund shall be utilized towards the improvement of agriculture infrastructure such as the establishment of cold chain facilities, and the building of Post-Harvest Management infrastructure.
c) Other measures
10,000 crores worth of food micro-businesses using a cluster-based strategy.
Pradhan Mantri Matsya Sampada Yojana (PMMSY) – Rs.11,000 crores for marine, inland, and aquaculture activities; and Rs. 9000 crores for infrastructure projects such as fishing harbors, cold chains, and markets.
Infrastructure Fund for Animal Husbandry was allocated Rs.15,000 crores.
4000 crores for the promotion of herbal cultivation.
Extending Operation Greens programme, to include all fruits and vegetables (Total) from tomatoes, onions, and potatoes (TOP). Rs. 500 crores were allocated towards it.
4. Fourth Tranche: New Horizon
a) Aircraft and space
To improve the efficiency of commercial aviation, restrictions on the use of Indian airspace were relaxed.
Creation of top-notch airports using PPP.
For the purpose of establishing economies of scale, the tax structure for the ecosystem of aircraft maintenance, repair, and overhaul has been streamlined.
Increasing private sector involvement in space activities - The use of ISRO facilities and other pertinent resources by the private sector would be permitted in order to increase their capabilities.
b) Commercial Mining
As a policy reform, the government has opened the way for commercial coal mining to reduce import dependence and this will enhance the self-reliance of India in coal production. The private sector participation is through the revenue-sharing model. Partially explored coal blocks are also auctioned. The government also plans to provide a rebate in the revenue-sharing model in case the company opt for coal gasification. In recent years the government has planned to liberalize the coal sector by providing Coal Bed Methane (CBM) extraction rights through auction. Further, government is taking various measures in the coal sector via ease of doing business measures.
5. Fifth Tranche: Government Reforms and Enablers
a) Ease of Doing Business reform
Certain violations under the Companies Act, 2013 were decriminalized. Further, more than 14,000 prosecutions were withdrawn under the Companies Act, 2013.
Direct listing of securities by Indian public companies was allowed in a few foreign jurisdictions.
Privatization of certain public sector enterprises.
The threshold to initiate insolvency proceedings was raised to Rs.1 crore to reduce the filing of new insolvency petitions.
Suspension of new insolvency proceeding by 1 year.
Smoother and separate insolvency proceeding framework for MSMEs.
b) Technology-driven education
SWAYAM PRABHA DTH was launched to give education through television, this was launched to give education access to students who do not have internet access.
A programme for multi-mode access to digital/online education called PM e-VIDYA was introduced. Each class, from 1 to 12, has a designated TV channel in the programme. For people who are blind or partially deaf, special online content has been created.
An initiative called Manodarpan was simultaneously created to provide families, teachers, and children with psycho-social support for their mental health and emotional welfare.
To ensure that every child achieves learning levels and outcomes in grade 5 by 2025, the National Foundational Literacy and Numeracy Mission was introduced in December 2020.
Financial Stimulus Provided 
S.no
Item
 
(Rs. Crore.)
1
First Tranche
5,94,550
2
Second Tranche
3,10,000
3
Third Tranche
1,50,000
4
Fourth and Fifth Tranche
48,100
 
Sub Total
11,02,650
5
Earlier Measures
 
1,92,800
6
RBI Measures
 
8,01,603
 
Sub Total
9,94,403
 
GRAND TOTAL
20,97,053
Success Story of Atmanirbhar Bharat Abhiyan
Before coming to the shortfall of Atmanirbhar Bharat Abhiyan, it is important to go through two success stories of the Abhiyan, which are mentioned below:-
Reduced dependence upon the import of electrical equipment, especially air conditioners in 2020 due to restrictions imposed upon the import of air conditioners with refrigerant by the Directorate General of Foreign Trade (DGFT).
India is known to be a pharmacy of the world due to its robust supply chain and low cost of production of generic medicines and India's covid-19 vaccination drive proved to be the world's largest vaccination drive. Which was made possible by the ingeniously developed vaccines i.e. Covaxin and Covishield.
Criticism 
Following are the criticism by the critics of Atmanirbhar Bharat Abhiyan:-
The figure of 10% expenditure under the scheme was referred to as inflated by several opposition leaders and economists.
while RBI's policies were a part of fiscal measures which was clubbed under the government's expenditure under this programme.
Prof N R Bhanumurthy of the National Institute of Public Finance and Policy (NIPFP), suggested Indian economy was contracting by 13% and suggested higher spending for government to balance out the inflation.
Ease of credit and loan facilities, though beneficial to the public, and increase disposable income in the hand of the public can disrupt the financial stability of banking systems due to unchecked increase of loan facilities by banks and the risk of non-performing assets (NPA) gets high.
Lack of financial support for state government, who were at the forefront of fighting the pandemic.
The critics criticized the self-reliant India campaign as a copy of the Make in India campaign i.e., the campaign was remodeled and launched in the name of Atmanirbhar Bharat Abhiyan.
The philosophy of self-reliance will restrict the concept of globalization and could shrink India into isolation. Since the world was closing into isolation during the worldwide lockdown in 2020. This could defeat the purpose of LPG reforms in 1991 by the Indian government to open up the economy.
Conclusion
Atmanirbhar Bharat Abhiyan gave more emphasis towards the supply side to boost the economy by infusing capital. While the MNREGA got additional financing to help generate employment for the migrant workers, who migrated back to the villages due to the lockdown. Many of the reform initiatives, such as expanding the number of sectors open to private investment and encouraging foreign direct investment, should not be viewed as short-term COVID alleviation but rather as long-term structural improvements. These actions' results will need to be closely monitored.
Recent government initiatives, such as authorizing commercial coal mining, establishing agriculture initiatives, and allowing private enterprises to engage in critical industries, serve as strong pillars to support India's economic growth and provide the nation with tremendous chances to achieve self-sufficiency. Additionally, a strong budgetary push for the manufacturing sector, MSMEs, and favorable PLI reforms will promote India's road to self-reliance by boosting local manufacturing firms and luring foreign investors.