"Ownership of land and houses plays a big role in the development of the country. When there is a record of property, citizens gain confidence". - PM Narendra Modi
SVAMITVA (Survey of Villages and Mapping with Improvised Technology in Village Areas) is a Central Sector Scheme that aims to give rural Indians access to an integrated inhabited (Abadi) property ownership solution. On April 24, 2020, National Panchayati Raj Day, the Honorable Prime Minister announced the start of the Scheme's Pilot Phase.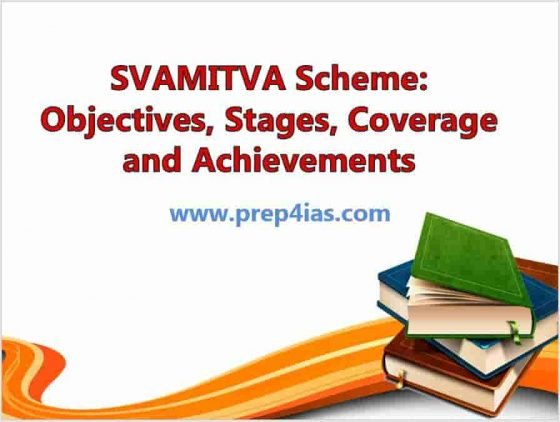 SVAMITVA Scheme: Objectives, Stages, Coverage and Achievements
Also Read: Mission Solar Charkha: Background, Objectives and Implementation
The Ministry of Panchayati Raj, Survey of India, National Informatics Centre (NIC), State Revenue Departments, and State Panchayati Raj Departments work together to demarcate rural occupied land utilizing drone surveying technology. In the form of Property Cards/Title Deeds, this will give village household owners the "record of rights."
Need For Reform
Since independence, only agricultural and have been included in government surveys of rural land. The inhabited areas of villages also referred to as "abadi" land in Uttar Pradesh and Madhya Pradesh, "lal dora" land in Punjab and Haryana, and "gaothan" land in Maharashtra and Gujarat, among others, have mainly stayed beyond the scope of such surveys in a number of states. Since many village groups in India lack records of their rights, their claim to ownership of land in the "abadi" area is largely dependent on whether or not they actually control the property.
The owners of properties in rural areas are unable to use their own property as a financial asset for the purpose of obtaining loans from banks in the absence of a legal document. Therefore, it is necessary to employ technology to benefit rural households in order to grant the owner of the household property rights supported by changes to the State Land Revenue Code/Acts.
Objectives
Given below are the main objectives of the SVAMITVA Scheme:-
The opportunity to use the land or property as an asset to obtain a loan or take advantage of other financial benefits will help the people living in rural areas achieve financial stability.
The land division and records are not well maintained and noted due to ignorance. The Government hopes to generate accurate land records through this programme for rural planning.
It will assist in determining the amount of property tax, which will either directly benefit GPs in States where it is devolved or go toward funding the State exchequer.
GIS maps and suitable survey infrastructure must be used by various government departments.
Utilising GIS maps will also strengthen and support the Gram Panchayat Development Plan (GPDP).
There are still several unresolved legal and property-related conflicts in rural areas. This endeavour will also aid in resolving these problems.
Various Stages in SVAMITVA Scheme
The signing of the MoU between Survey of India and respective State Governments
Identification of villages to be surveyed during the Pilot Phase
Amendments in States/UTs Rule and Acts to take drone based surveys and provision for Property Cards under SVAMITVA Scheme
Sensitization of GPs/villages
Demarcation of abadi area and chunna marking of rural properties
Large-scale mapping of the rural abadi area using unmanned aerial vehicles/drones
Creation of maps viii. Ground verification of maps by drone survey teams
Correction of maps – post-ground verification
Inquiry Process
Generation of final Property Cards
Uploading of the Property Cards on the digital platform.
SVAMITVA is Leveraging Technology at Scale - CORS & Drones
High-resolution maps can be swiftly produced using survey-grade drones and the Continuous Operating Referencing System (CORS) network. The high-resolution photos make it simple to identify the proportions of one's own plots. A total of 500–600 drone teams with around 2000 competent workers would be needed to cover the entire nation. With an accuracy of +/- 5 cms, high-quality survey grade UAVs/drones allow for the creation of maps at a scale of 1:500.
Public infrastructure comprising 567 CORS stations or a geo-positioning infrastructure, has been created. This infrastructure can be utilized to replace the chain surveys now used in many States. The estimation and inspection of public works will also help all departments as a result of this.
Coverage
Andhra Pradesh, Haryana, Karnataka, Madhya Pradesh, Maharashtra, Punjab, Rajasthan, Uttar Pradesh, and Uttarakhand are the nine states that make up the pilot phase.
Phased implementation; roughly 6.62 lakh villages are covered.
From April 2020 to March 2021, 50,000 villages are expected to be covered; the remaining villages will be served from 2021 to 2025.
Components
Establishment of Continuously Operating Reference Stations (CORS) network: Establishing Ground Control Points, which is crucial for precise geo referencing, ground truthing, and land demarcation, would be assisted by the CORS network.
Large Scale Mapping using Drones: The Survey of India will use drone surveys to map inhabited rural areas (abadi). To grant ownership and property rights, it would produce detailed maps. The owners of rural homes would receive property cards based on these maps or data.
IEC Initiatives: Program to raise awareness of the benefits of the scheme and its methods among the local people
Enhancement of Spatial Planning Application "Gram Manchitra": Utilizing digital maps and spatial data from drone surveys to produce spatial analysis tools to aid in GPDP preparation
Online Monitoring System: A dashboard for online monitoring and reporting would track the development of activities.
Project Management: National and state-level programme management units that support the appropriate ministries and states with scheme implementation
Preparatory Activities for the Implementation of the State SVAMITVA Scheme
a) The signing of MoU: The Memorandum of Understanding (MoU) for the implementation of the SVAMITVA Scheme in the State will be signed by the State Nodal Department, which consists of the State Revenue Department, the State Panchayati Raj Department, and Survey of India (SoI).
b) CORS Site Selection: If applicable, the State Government must give Survey of India a secure government building or location to set up CORS.
c) Amendments in Rules/ Acts: The State nodal department need to check the extent of activities that can be undertaken to conduct drone survey for the demarcation of rural inhabited areas in the State Revenue Act/ Panchayat Act. If required, State may need to seek an amendment in the State Rules/Acts to undertake drone-based surveys of properties.
d) Finalization of Property cards format: The State nodal department need to ensure that for issuance of property card to villagers, whether the prescribed form of property card need to created/modify/update / or any amendment in State Revenue Codes with respect to Drone Survey methodology
e) Commencement of IEC Activities: The State government shall develop a comprehensive communication strategy to undertake awareness programs to sensitize the local population about the surveying methodology and its benefits. The list of indicative IEC activities is shown below.
Using manuals, flip books, posters, role plays, puppet performances, billboards, leaflet distribution, and public announcements in villages as communication tools
Wall artwork
Short films about the survey and Panchayat innovations
Use of social media, audiovisual media, community radio, and special television programmes and features
Cultural events exhibitions
Mobile vans to deliver scheme information
f) Establishment of State Programme Management Unit (SPMU): The State Revenue Department, District officials, GP functionaries, Survey of India, and other stakeholders will all receive support from the State Programme Management Unit, which will be established at the State level for the overall management, monitoring of various activities under the Scheme, and support.
g) Submission of annual IEC and SPMU proposal: Funding to State Government is provided for two components under SVAMITVA Scheme viz. IEC activities and Establishment of SPMU. State Government shall submit annual IEC plan and SPMU proposal to Ministry and open Single node PFMS account for the release of payment under the SVAMITVA Scheme
h) The State Revenue department and State Panchayati Raj department shall work collaboratively towards IEC in the village: The State Revenue and Panchayati Raj departments must work together to develop a strong framework for IEC activities in order to achieve the common goal of the Scheme, which is to improve the rural economy, the living standards of rural people, and unlock potential for own Source of Revenues for GPs. According to perceived needs, the State Panchayati Raj department may use RGSA funding (under applicable components). Since the Scheme implications are extensive, any additional convergence that can be attained will be appreciated.
i) Organise Gram Sabhas: The village's residents will be invited to Gram Sabha by the Gram Panchayat in order to educate them of the survey's timetable and to raise awareness of its advantages.
j) Orientation Training – Revenue employees will receive training from Survey of India on survey-related procedures and how to use the SARTHI and SAHYOG software.
k) Demarcation of inhabited/abadi area: The coordinates of the Abadi area and KML files must be provided by the state government for the India survey. Officials from Survey of India will also receive scanned copies of the accessible rural populated maps from the State Revenue Department. (If accessible)
l) Preparation of district wise drone survey schedule, in consultation with Survey of India
m) Notifications
The regional revenue office obtains the necessary authorizations before beginning the survey. Through a public notice, the Collector or competent authority notifies the survey area.
Notifying the District Revenue Officer, the General Nodal Officer, or any other officer designated to create village-level drone flying schedules.
Inform BDPOs, Tehsildars, Gram Panchayats, and Patwaris of Schedules.
The Gram Panchayat must inform the residents of the drone survey timetable.
n) Individual properties, government assets, gram panchayat land parcels, roads, open plots, etc. are identified by representatives from the State Revenue Department, along with Gram Panchayat representatives and the property owner, and the property boundaries are marked with Chunna lines for the areas to be surveyed.
o) Gram Panchayats to update the village Asset Register (if available).
Achievements
Large Scale Mapping of Rural Abadi Area Survey under the Scheme produces high-resolution and accurate maps at a scale of 1:500 that would make it easier to create the most long-lasting records of property ownership in the rural abadi areas and promote in-depth village planning.
The newest survey methodology, drone survey technology, streamlines and improves mapping operations. Capturing topographic data with a drone is significantly quicker than with land-based methods, which decreases field time and survey costs. Many States, including Haryana, Andhra Pradesh, and Karnataka, are surveying areas in addition to rural abadi areas in order to determine the usability of this technology.
The SVAMITVA drone standards have given India's drone manufacturing industry a boost. Survey Grade Drones have now been produced by Original Equipment Manufacturers (OEMs), and supply orders have been placed with "Make in India" product firms. As the technology partner for the scheme's execution, Survey of India (SoI) has been working tirelessly to meet the scheme's objectives.
The Scheme has also improved the creation of jobs for skilled labour. More than 700 GIS Digitizers have been employed at various SoI offices due to the enormous demand for GIS labour, and these numbers are continuously rising based on their needs. In order to meet these demands, many START-Ups and MSME service organisations have begun to increase their GIS manpower bench strength.
As of August 2021, 28 States/UTs had signed memorandums of understanding with the Survey of India for the implementation of the scheme, and the remaining States are in the process of doing so soon. This is in preparation for the scheme's nationwide rollout (FY 2021-2025). The Plan has the power to change rural India. The improvement of the rural economy is greatly impacted by the Scheme's successful implementation.
Conclusion
The plan's results include issuing property cards to property owners and amending the "record-of-rights" in the revenue/property registers. The monetization of rural home assets for lending and other financial services would be made easier as a result. Additionally, this would open the door for a straightforward determination of property tax, which would benefit the GPs and result in better public amenities.