In this article, we will see 26 Important Points About Khajuraho Temple in Madhya Pradesh. Khajuraho group of monuments are one of the famous example of Nagara Style of Architecture and are uniquely known for its Erotic Sculptures. The presence of both Jain and Hindu religion temples suggested an acceptance and respect for diverge religious views among both the religions in that region. We will see some more points about this temple from exam point of view in below section.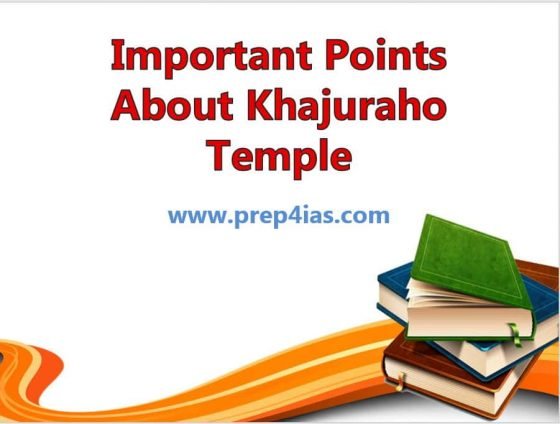 Important Points About Khajuraho Temple in Madhya Pradesh
It is a group of Jain and Hindu temples located in Chhatarpur District of Madhya Pradesh.
It is a part of UNSESCO World Heritage Site.
It was built by Chandela Dynasty rulers between 885 AD and 1050 AD.
The temple site is within Vindhya mountain range in central India.
Chausath Yogini Temple dated back to late 9th Century is the oldest Khajuraho temple.
In 1022 CE, Abu Rihan-al-Biruni, a persian historian who accompanied Mahmud of Ghazni in his raid of Kalinjar mentions Khajuraho as the capital of Jajahuti.
The Khajuraho temples are made of sandstone, with a granite foundation that is almost concealed from view.
The temples have several thousand statues and artworks, with Kandarya Mahadeva Temple alone decorated with over 870.
Until 12th Century, Khajuraho had 85 temples. During 13th Century, Majority of them were destroyed by Delhi Sultanate rulers and few of them were left abandon. Now only 22 temples are left.
Of the surviving temples, six are dedicated to Shiva, eight to Vishnu and his affinities, one to Ganesha, one to Sun god, three to Jain Tirthankars.
The Khajuraho group of temples belong to Vaishnavism school of Hinduism, Saivism school of Hinduism and Jainism - nearly a third each.
As per the legends, the temples had, as their gate, two golden date-palm trees. And this is how Khajuraho was derived from the word 'khajur', which means date palm.
As per the legends, temple was built after a beautiful woman called Hemvati.
The temples are entered through an ornate entrance porch (ardhamandapa), which leads to the main hall (mandapa), through which one accesses the vestibule (antarala) before reaching the sanctum (garbhagriha). More on UNSECO Official Page.
The temple site highlights Shiva, the one who destroys and recycles life, thereby controlling the cosmic dance of time, evolution and dissolution.
The Jain temples are located on east-southeast region of Khajuraho monuments.
The largest and currently most famous surviving temple is Kandariya Mahadeva built in the reign of King Vidyadhara.
Ibn Battuta, a Moroccan traveler mentioned visiting Khajuraho temples during his stay in India from 1335 to 1342 AD, calling them "Kajarra".
Khajuraho temple was one of the many temples destroyed by Sikander Lodhi during his campaign in 1495 AD.
The art and culture depicted over the Khajuraho temple shows the numerous aspects of human life and values.
While temple is famous for its erotic sculptures, yet it covers only 10% of the temple sculpture.
Sculptures depicting acts of worship, clan and minor deities, and couples in union, all reflect the sacred belief system.
Other themes mirror social life through depictions of domestic scenes, teachers and disciples, dancers and musicians, and amorous couples.
Khajuraho temples, almost all Hindu temple designs, follow a grid geometrical design called vastu-purusha-mandala. This design plan has three important components – Mandala means circle, Purusha is universal essence at the core of Hindu tradition, while Vastu means the dwelling structure.
All Khajuraho temples, except one, face sunrise, and the entrance for the devotee is this east side.
The pillars, walls, and ceilings around the space, as well as outside have highly ornate carvings or images of the four just and necessary pursuits of life – kama, artha, dharma, and moksa. This clockwise walk around is called pradakshina.