In this tutorial, we will go through all Important Points related to Madhya Pradesh that can be asked in your exams. Madhya Pradesh is the second largest state of India which share its borders with Maharashtra, Rajasthan, Chhattisgarh, Uttar Pradesh and Gujarat. There are 52 districts in Madhya Pradesh divided into 10 divisions.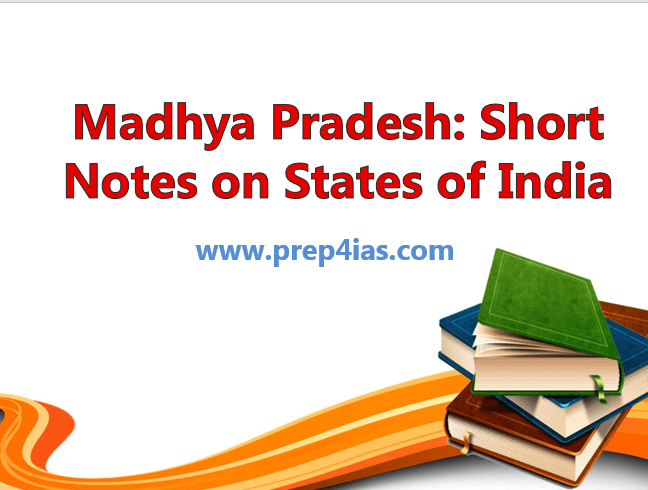 Madhya Pradesh: Short Notes on States of India
Also Read: Important Questions on Seas of the World(Mediterranean Sea, Black Sea, Caspian Sea)
Madhya Pradesh is the 2nd largest State of India by Area.
State is also Known as heart of India due to its geographical location.
Its State Capital is Bhopal.
Cities like Bhopal and Indore are Known as one of the Cleanest City in India.
Before Year 2000 when Chhattisgarh was part of the state, it was the largest state of India.
State has largest reserve of Diamond and Copper in India.
More than 30% of its area is under Forest Cover.
Climate of Madhya Pradesh is heavily influenced by the Tropic of Cancer that passes through the state. The summers are extreme hot, winters are extreme cold and the rainfall is either extreme or drought situation prevails.
During Summer(March-June), the temperature in the entire state ranges above 29.4 °C.
The regions like Gwalior, Morena and Datia record temperature of over 42 °C in the month of May.
Mandla, Balaghat, Sidhi, Jabalpur and other extreme eastern parts receive more than 150 cm rainfall. The districts of Western Madhya Pradesh receive less than 80 cm rainfall. More on Climate of Madhya Pradesh.
Madhya Pradesh has largest Population of Marathas outside Maharashtra.
Its Official Language is Hindi however Urdu and Marathi are often spoken by large number of Population as the state was home to several important Maratha rulers.
Black Soil is most predominant in Malwa Region, Mahakoshal and in Southern BundelKhand region.
State Animal is Barasingha and State Bird is Indian Paradise Flycatcher.
Several Important Mountain ranges in the state are Vindhyas, Gawilgarh Hills, Mahadeo Hill, Maikal Hill, Bhanrer range and Kaimur Range.
Important Plateaus in the state are Bundelkhand Plateau, Bagelkhand Plateau, Amarkantak Plateau and Betul Plateau.
Narmada and Son River Originates from Amarkantak Plateau.
Tapi River Originates from Betul Plateau.
There are 9 National Parks in the State: Panna National Park, Madhav National Park, Bandhavgarh National Park, Sanjay National Park, Kanha National Park, Pench National Park, Satpura National Park, Van Vihar National Park and Mandla Plant Fossil National Park.
Kanha National Park is the largest National Park of the State.
There are 3 Biosphere Reserves in the State: Panna Biosphere Reserve, Panchmarhi National Park and Achanakmar – Amarkantak Biosphere Reserve.
State has also three world Heritage sites: Khajuraho group of Monuments, Sanchi Stupas and Bhimbetka Rock Shelters.
Important Lakes like Bhojtal Lake and Indira Sagar Lake are also there in the State. Bhojtal lake is also known as Upper Lake which acts as a major source of drinking water.
Indira Sagar Lake is the largest Lake of India in terms of Volume of Water.
Major tribes are: Gond, Bhil, Baiga, Bhariya, Halba and Sahariya.
Gaur is the Famous Folk Dance of the State. Other important folk dances of the state are Jawara, Matki, Aada, Khada Nach, Phulpati, Grida Dance, Selalarki, Selabhadoni and Maanch.
Major Festivals of the State are: Bhagoriya, Shivratri, Tansen Music Festival, Narmada Festival, Kalidas Samaroh, Shivpuri Festival.
Asia's thickest Coal Seam is located in the district of Sidhi.
State also has large reserves of Limestone.
Manganese and Dolomite, key ingredients of Iron and Steel Industries are found here.
State is also the largest producer of Garlic, Coriander, Soyabean, Gram, Pulses and Oilseeds.
Indore city is famous for Pharma, Textile, Food Processing, IT and Auto Components Industries.
Bhopal is having Engineering, Textile, Food Processing, Biotech, Herbal and IT Industries.