In this article, I will take you through Arches National Park which has the highest density of natural arches than anywhere else in the World. This world famous park is a natural wonder of Sandstone. It has more than 2000 natural sandstone arches including the well known Delicate Arch. What is more wonderful here is the numerous number of Indigenous tribes, picturesque view, panoramic beauty and different shades of colorful sandstones. Visitors with appropriate permission can perform various activities like bicycling, hiking, trekking, auto touring and rock climbing. We will see some more important points in below section.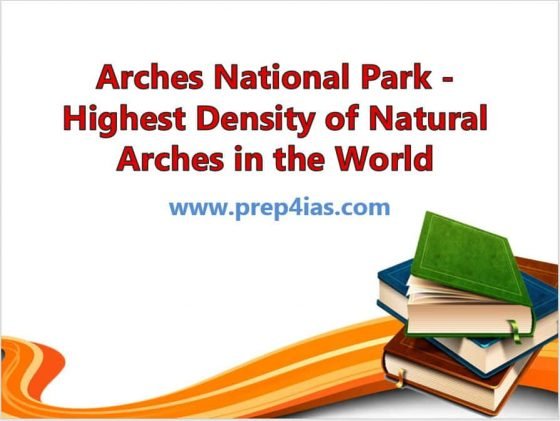 Arches National Park - Highest Density of Natural Arches in the World
Also Read: 80 Important Facts About Kruger National Park, South Africa
Arches National Park is located in the Eastern Utah region of the United States.
Park receives an average of less than 10 inches of rainfall every year.
The highest elevation in the park is 5,653 feet (1,723 m) at Elephant Butte, and the lowest elevation is 4,085 feet (1,245 m) at the visitor center.
It is administered and managed by the National Park Service.
The area was originally named as a national Monument on April 12, 1929 and was redesignated as a National Park on November 12, 1971.
The main reason of formation of arches in this area is the underground evaporite layer or salt bed.
The salt belt deposited in the Paradox basin of the Colorado Plateau is thousands of feet thick.
This salt deposition is the result of a sea that flowed into this region some 300 million years ago and eventually evaporated.
As the park located in the Colorado plateau, temperatures fluctuate here between 0 F to over 100 F depending on the season.
Park receives more than 1 million visitors every year.
There are primarily four types of arches found by the Geologists - Cliff Wall Arch, Free-Standing Arch, Pothole Arch and Natural Bridge.
Climbing Balanced Rock or any named or unnamed arch in Arches National Park with an opening larger than 3 ft (0.9 m) is banned by park regulations. More on wikipedia.
Astronomy is quite popular in the Park due to clear sky.
The Arches area was first brought to the attention of the National Park Service by Frank A. Wadleigh, passenger traffic manager of the Denver and Rio Grande Western Railroad.
Park has mostly Arches made up of salmon-colored Entrada Sandstone and the buff-colored Navajo Sandstone. These are visible in layer-cake fashion throughout most of the park.
The longest arch in the park is Landscape arch which has a light opening 306 ft across and the tallest is Double Arch South which has a vertical light opening of 112 feet.
Park also has rich diversification of flora and fauna. There are about 483 species of plants, 186 species of birds and 52 different species of mammals can be found here.
Major list of wildlife includes spadefoot toad, antelope squirrel, scrub jay, peregrine falcon, many kinds of sparrows, red fox, desert bighorn sheep, kangaroo rat, mule deer, cougar, midget faded rattlesnake, yucca moth, western rattlesnake, and the collared lizard.
Major list of plants includes prickly pear cactus, Indian ricegrass, bunch grasses, cheatgrass, lichen, moss, liverworts, Utah juniper, Mormon tea, blackbrush, cliffrose, four-winged saltbrush, pinyon pine, evening primrose, sand verbena, yucca, and sacred datura.
Biological soil crust consisting of cyanobacteria, lichen, mosses, green algae, and microfungi is found throughout southeastern Utah.
Paintings left by the Indigenous Inhabitants are clearly visible on the rocks.
Balanced rock is one of the major attraction of the park which weighs around 3577 tons and stands at 128 feet tall.