In this article, we will see all the important questions related to Maharashtra that can be asked in your exams. Maharashtra is located in the Western Peninsular region of India occupying a portion on the Deccan Plateau. It is surrounded by the Arabian Sea to the west, the Indian states of Karnataka and Goa to the south, Telangana to the southeast and Chhattisgarh to the east, Gujarat and Madhya Pradesh to the north, and the Indian union territory of Dadra and Nagar Haveli and Daman and Diu to the northwest.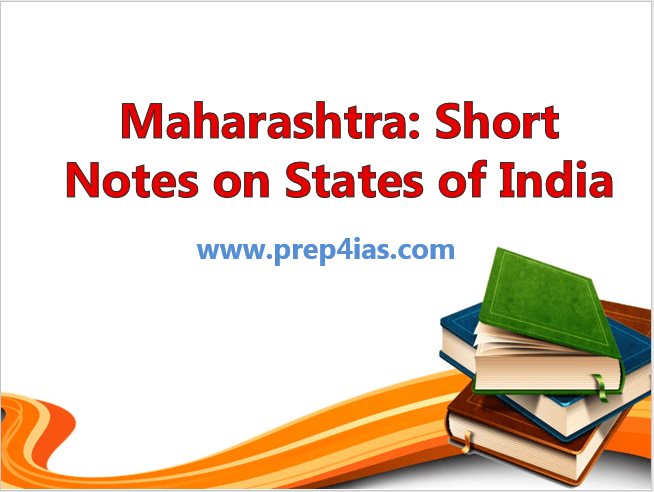 Maharashtra: Short Notes on States of India
Also Read: 55 Important Questions on Committees and Commissions in India
It was earlier known as Bombay Presidency. Then it became Bombay state and finally it divided into states of Gujarat and Maharashtra under Bombay Re-organization Act, 1960.
Maharashtra was chronically ruled by the Satavahana dynasty, Rashtrakuta dynasty, Western Chalukyas, Deccan Sultanates, Mughals and Marathas and then the British till Independence.
Maharashtra is the home of Maratha Empire of 18th Century. The Maratha Empire declined after the defeat by the Afghan Ruler Ahmad Shah Abdali in the third Battle of Panipat in 1761.
It is the 3rd largest state by area and is the 2nd most populous state in India.
Rainfall: Thane, Raigad, Ratnagiri and Sindhudurg districts receive heavy rains of an average of 200 centimeters annually. But the districts of Nashik, Pune, Ahmadnagar, Dhule, Jalgaon, Satara, Sangli, Solapur and parts of Kolhapur get rainfall less than 50 centimeters.
Under the influence of Bay of Bengal Eastern Vidarbha received good rainfall in July, August and September.
The important soil types found in the state of Maharashtra are black soils, red soils, laterite and lateritic soils, alluvium, mixed soils, red and black soils and saline and alkaline soils.
Its Capital City Mumbai has Population of around 18.4 million and is also known as the financial capital of India.
Its second capital Nagpur is also known as the Winter Capital and Pune is known as the cultural capital.
State share its border with Gujarat, Madhya Pradesh, Chhattisgarh, Telangana, Goa and Karnataka.
Its State Animal is Indian Giant Squirrel and State bird is Yellow-footed Green Pigeon.
Marathi is the Official State Language.
State has a total of 36 districts and is currently divided into six divisions: Amaravati, Aurangabad, Konkan, Nagpur, Nashik and Pune.
Pune division is famous for its Sugar Factories.
Nashik is known as the 'wine capital of India' as it has the highest number of wineries and vineyards in the country.
Ahmadnagar is the largest district by area and suburban mumbai is the largest district by population of Maharashtra.
State contributes 25% of Country Industrial output and 23% of its GDP.
Major Mineral resources are coal, Iron Ore, Manganese, Chromite, Bauxite, Oil and Natural Gas.
Major Industries Includes Chemicals, Petroleum, Pharmaceuticals, Machine tools, Steel and Iron Industry.
Major mountain ranges are Raj Pipla, Satmala, Ajanta Range, Gawilgarh Hills, Harish Chandra, Balaghat Range, Mahadev Range, Mahadeo Hill, Maikal, Bhanrer Range, Kaimur range, Aravallis.
Major Rivers flows through the state are Godavari, Krishna, Mahanadi, Tapi and Narmada.
There are total 5 National Parks in the state: Gugamal National Park, Navegaon National Park, Tadoba National Park, Sanjay Gandhi National Park and Chandoli National Park.
Tadoba National Park is the oldest and largest National Park of the State.
There are total 6 Tiger Reserves in the State: Pench Tiger Reserve, Melghat Tiger Reserve, Bor Tiger Reserve, Sahyadri Tiger Reserve, Navegaon Tiger Reserve and Tadoba Tiger Reserve.
There are two major Lakes in the state: Lonar Lake and Salim Ali Lake. Lonar Lake was created by a meteor impact in the past.
State has total of 5 World Heritage Site: Ajanta Caves, Ellora Caves, Elephanta Caves, Western Ghats and Chattrapati Shivaji Terminal.
There are two Ports in Maharashtra: Mumbai Port and Jawaharlal Nehru Port. Mumbai Port is the natural Port and also the biggest Port of India. Jawaharlal Nehru Port is the largest and busiest container port of India. Major exports are machinery, chemicals and Vegetable Oils.
Major tribes in the state are: Bhaina, Bhunjia, Dhodia, Katkari, Khond, Rathawa and Warlis.
Major Folk Dances of the State are: Lavni, Koli, Lezim, Gafa and Nataka.
Kalsubai Peak(in Sahyadri Range) near Igatpuri is the highest Peak with an altitude of 1646 m.
India's first Gold Refinery is located at Shirpur.
Famous Festivals of Maharashtra are: Gudi Padwa, Pola, Narali Purnima, Ganesh Chaturthi, Banganga Festival, the elephant Festival, the Ellora Festival.
Few of the Famous Wildlife Sanctuaries are: Great Indian Bustard WLS, Koyana WLS, Chaprala WLS, Melghat WLS, Nagzira WLS, Phansad WLS, Radhanagari WLS, Sagareshwar WLS, Yawal WLS, Tungareshwar WLS, Thane Creek Flamingo WLS, Nandur Madhameshwar WLS, Kalsubai Harishchandragad WLS, Bhimashankar WLS.
Important GI Tags of Maharashtra are: Solapuri Chaddar, Solapur Terry Towel, Nagpur Orange, Puneri Pagadi, Nashik Valley wine, Paithani Sarees and Fabrics, Mahabaleshwar Strawberry, Nashik Grapes and Kolhapur Jaggery.
Important Forts are Ahmadnagar Fort, Ajinkyatara Fort, Arnala Fort, Bassein Fort, Chakan Fort, Daulatabad Fort, Gavilgad Fort, Harishchandragad Fort, Kandhar Fort, Lohagad Fort, Mumbai Fort, Raigad Fort, Shivner Fort, Sidhudurg Fort, Purandar Fort, Pratapgad Fort, Panhala Fort, Narnala Fort and Murud Janjira. You can check Maharashtra Tourism Official Website for more information.